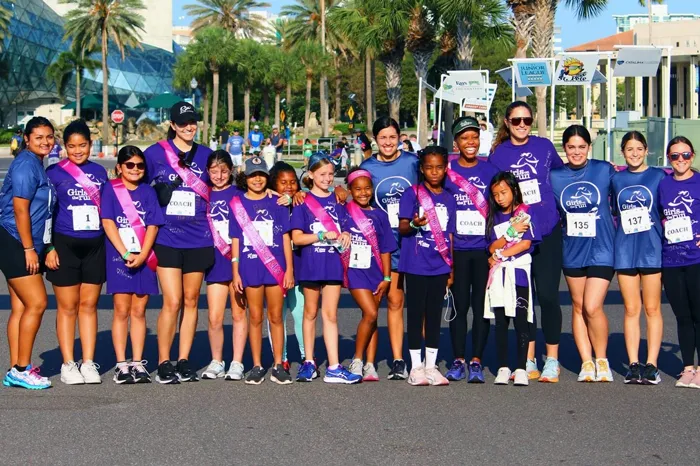 YMCA Camp Cristina girls finished the season with a 5K race.

The YMCA is proud to partner with local organizations to improve the health and well-being of our members. This year, YMCA Camp Cristina embarked on a partnership with Girls on the Run, a nonprofit organization that provides a unique and empowering running program for girls in 3rd - 8th grade.
Girls on the Run
Girls on the Run and YMCA Camp Cristina focus on the whole child's health in addition to providing out-of-the-box, quality programming children love.

The Girls on the Run curriculum is designed to inspire youth to be happy, healthy and confident through running. This year, the girls focused on learning valuable life skills such as teamwork, goal setting and self-confidence while increasing their physical activity.

This year, 10 girls from YMCA Camp Cristina afterschool program participated in the running program along with four volunteer coaches. The girls practiced twice weekly for 10 weeks, and participated in a 5K race on Saturday, May 6, 2023. During their practices, the girls learned about running in a positive and inclusive environment where their coaches encourage them to be themselves and celebrate their unique qualities.

Meagan Springer, Operations Director at YMCA Camp Cristina, shares that the program teaches the girls how to find their inner self-confidence, build meaningful relationships and discover their passions – even if it isn't running.

In fact, the girls did not have to run each practice, instead they were encouraged to run, skip hop or walk while cheering on their friends.
Girls on the Run Volunteer Opportunities 
Meagan adds, "One of my biggest takeaways from the program was understanding the power of community. Much like the YMCA, Girls on the Run is heavily volunteer led. These volunteers really put their time and hearts into what they do, and you can see the impact firsthand as the girls reached new heights."

YMCA Camp Cristina plans to partner with Girls on the Run next year. Learn more about the program, become a volunteer running buddy or sign up to support the upcoming season by contacting Meagan Springer at Meagan.Springer@tampaymca.org or visit Girls on the Run Greater Tampa Bay.

Published: Wednesday, May 17, 2023.