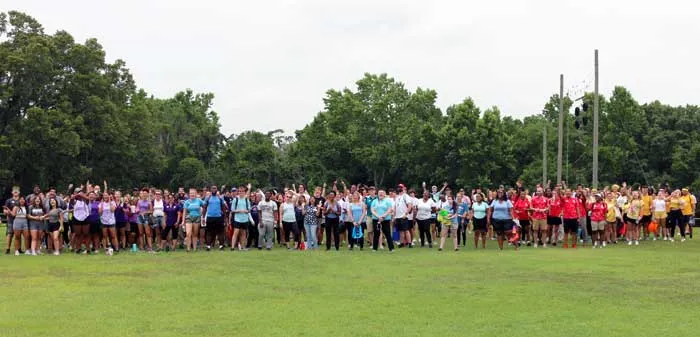 Every morning at YMCA Camp Cristina, hundreds of children sing the summer camp theme song as loud as they can.

P-A-R-T-Y, party, party all the time
Where is the party at? 
The party's over here! 

Fun, adventure and friends can all be found at Tampa Y ACA-Accredited summer day camps. At each of our camp locations, children experience traditional camp activities like arts and crafts, STEM projects, swimming, games, outdoor education, team-building activities, and various adventure activities throughout the week. 

Our trained and certified camp counselors make these memorable activities and experiences possible. Last month, over 250 counselors kicked off their staff training at Camp Cristina by singing the P-A-R-T-Y song like their campers do each day. Throughout the afternoon, counselors rotated through a series of presentations on Diversity, Equity and Inclusion (DEI), child abuse prevention and team-building activities.

The training provided crucial techniques for handling challenging situations to keep our campers safe, resolve conflict, and create a fun environment with lifelong memories! 

Bryan Santiago, the Program Director at Northwest Hillsborough Family YMCA, believes summer camp training is essential for all staff and campers. 

"I think the biggest takeaway from the training is learning different techniques to handle certain situations," shares Bryan. 

He recalls a camper from several years ago who started camp completely unengaged but, after getting to know her, and her unique situation, Bryan and his fellow counselors were able to work with her to turn her behavior around and create a wonderful camp experience. 

"The first week, Danyla didn't want to do any of the activities. She was yelling back at counselors and just didn't want to be at camp. It was getting to the point where we were thinking we needed to suspend her…I really do not like suspending or terminating any participants, because at that point, you are sending these kids back to the environment these behaviors stem from."

Bryan knew through his training, that if he and the team were intentional about their interactions with Danyla, they could set her on a path to a great summer! 

"We would have a conversation every day or two about things she was doing good and what she could do better. Through conversations, we found out she really wanted to do gymnastics camp," said Bryan. 

"I let her know that if she can show great behavior I would allow her to go to gymnastics camp. She said she would do great, and she absolutely did. By the end of the summer, the same child that was giving us a hard time became one of our better kids. She participated in everything, she listened well, and she even won Camper of the Week her final week."

Bryan shares, "It was a team effort, but everyone understood that if we were persistent and kept praising her for the things she was doing well, that we could create a great experience for her and everyone in the camp." 

The YMCA welcomes hundreds of children to our summer day camps, each with a unique upbringing and living situation and through the efforts of counselors like Bryan, these children leave with a rewarding camp experience. 

"Learning to understand where behaviors stem from, and how to correct children properly, is huge…when staff learn these different techniques before going into camp, it's a game-changer." 

Catch some summer camp joy and keep up with campers' journeys by following your YMCA on social media.