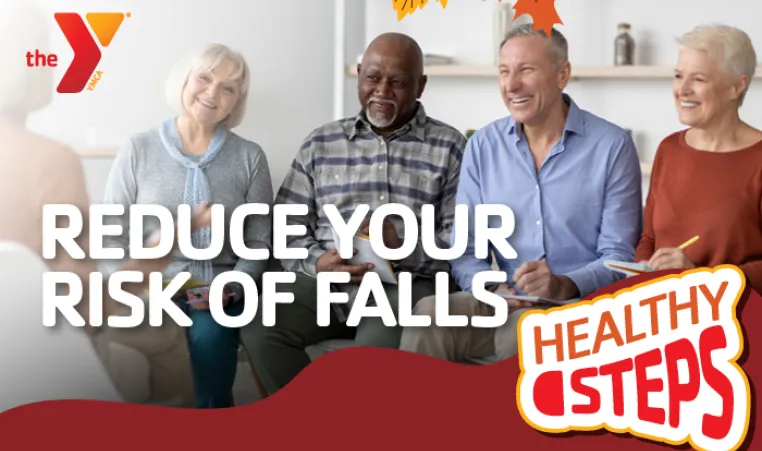 TAMPA, FLA (Sept. 7, 2023) September is Fall Prevention Month and Tampa Bay YMCAs are coming together to help seniors in our communities. Tampa Metropolitan Area YMCA, YMCA of the Suncoast and YMCA of Greater St. Petersburg are each hosting the Healthy Steps for Older Adults (HSOA) free program, which is an evidence-based fall risk screening and education class for adults ages 65 and older.
The collaboration has been made possible due to a federal grant from the U.S. Administration for the Community Living (ACL) awarded to YMCA of the Suncoast. The grant helps "reduce falls and the risk of falling among older adults and adults with disabilities in order to maximize their independence."
According to the ACL, "more than one out of four older adults fall each year. Falls are the leading cause of fatal and non-fatal injuries among adults 65 and older and are very costly."
"The YMCA of the Suncoast is grateful for the funding award from the ACL to continue fall prevention efforts throughout the Tampa Bay Area. In partnership with the Tampa Metro YMCA, YMCA of Greater St. Petersburg and BayCare Health System, we are excited to help improve the lives of older adults in our community through reducing their risk for falls," shares Summer Cruff, Vice President of Healthy Living at the YMCA of the Suncoast.
"The YMCA's Healthy Steps participants have found it to be a fun and interactive two-day workshop that addresses the issue of falls which is the leading cause of injury-related hospitalizations among adults over 60 years of age. Participants receive a take-home safety checklist, local resource list and individual fall risk assessment they can share with their physician. They enjoy learning and practicing easy fall prevention exercises (chair optional) that they can do at home as well, "says Kieran Gabel, Director of Community Health for YMCA of Greater St. Petersburg.
Dawn Kita, Tampa Y's Operations Director, Community Health notes:
"Participants have enjoyed the seminars, learning a variety of concepts from how to make their homes safer by reducing fall risks to exercises they can do at home, which strengthens their muscles and increases balance to reduce falling anywhere. Everyone leaves with easy nuggets they can immediately implement to reduce their risk of falling."
Many Tampa Bay Area YMCAs will also highlight Falls Prevention Awareness with, which runs from September 18-22, 2023.
Media queries can be directed to 
Kiran Malik-Khan
Senior Communications Director
Tampa YMCA and YMCA of the Suncoast
Kiran.Malik-Khan@tampaymca.org
Heather Vanderbeek
Marketing Manager
YMCA of Greater St. Petersburg
Corporate Office
hvanderbeek@stpeteymca.org