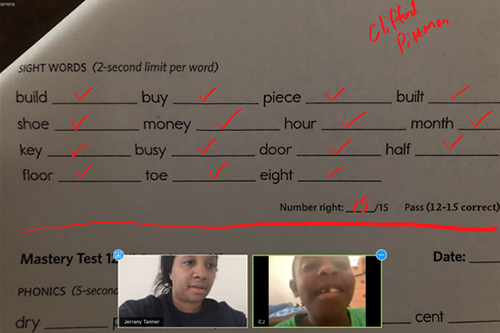 While schools are closed, YREADS! continues virtually at home, where students receive tailored one-on-one tutoring.

YREADS!, a grant-funded reading intervention and mentoring program for K-3rd graders, has moved from the classrooms to the comfort of our students' homes. 

"As we maneuver through this pandemic together, our goal as a YMCA READS! coordinator is to not only develop our youth, but to motivate, encourage, mentor and build our students," says Dee Baynham. "We also uplift and support our parents as virtual learning is new for them." 

Through the YREADS! at home, students engage in a 30-minute virtual reading session. During the session, students have tailored one-on-one instruction with their lesson. "The students are more focused, more engaged and more excited; it is written all over their faces," says Dee. 

"I absolutely love the virtual lessons. I am very proud of how well my daughter is doing," says one parent. 

Seeking to close the gap in students' reading performance and the State of Florida's reading performance expectations, YMCA READS! is always looking for volunteer mentors. If interested, contact yreads@tampaymca.org.