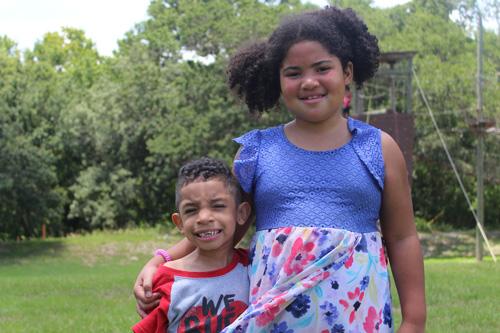 Da'Khye, 6, and sister Maliyah, 8, can't help but smile during their first week back at camp.

Camp at the Y may feel and look a little different due to COVID-19 but Tampa Metropolitan Area YMCA Vice President of Operations Bart Cape assures parents "at the end of the summer and at the end of the week when your child comes home, we definitely know that they have had a great experience and it will be certainly something they will never forget." 

Bart says as a parent himself, he's always thinking about safety and that's no different at the Y. "We're always thinking about our children to make sure they're in a positive, safe environment. We are prepared for that at the Y. We've got a lot of safety protocols we've put in place."
Before children and staff are checked in, their temperatures are taken. For the safety and well-being of others in camp, those running a temperature of 100.4+ degrees cannot attend.
Staggered curb-side check-in.
Lower ratio camp groups spread throughout the whole facility. Campers remain in their same groups throughout the week.
Individual and spaced out activities to practice safe social distancing where possible when inside. Limited sharing of supplies.
Ample access to hand washing and hand sanitizer stations, especially at check-in, before meals and after restroom use.
Y staff intentionally teach and encourage good hand hygiene, respiratory etiquette and follow a strict sick child/staff policy.
Significant disinfecting of supplies and activity areas throughout the day.
The extra precautions, which Y camp leaders and counselors have been trained on, follow the recommendations of the American Camp Association (ACA), Centers for Disease and Control Prevention (CDC) and other medical professionals.

"We've got thousands of campers who've come to us in the summer. We have a lot of trust there and we've really been able to do that even more in the last ten weeks with our Youth Relief Care for essential workers, which has really prepared us well," Bart says.  

Kathleen Rocamora, grandparent to Maliyah, 8, and Da'Khye, 6, sends the siblings to YMCA Camp Cristina, where she sent her own kids growing up. 

"At the time I was a single parent and I just remembered how much fun they had and they always wanted to go back. That was huge for me even then because I did not have to worry if they were being properly cared for or not. Their excitement to go back every day let me know it was the right place for them," she recalls.

Kathleen says she had no hesitation sending her grandchildren back to camp again this summer. "They are super excited they are going to get to see all of their friends. Maliyah gets to work with the horses so she is over the top excited," shares Kathleen. "As far as the precautions in place, I am confident they will be at the safest place possible, besides home of course. The small groups, temperature taking, cleaning protocols and just being outside make it very comfortable to leave them there. They also need to go somewhere they can be a kid again and just play and have fun with no worries." 

And Maliyah and Da'Khye will have their favorite activities to look forward to like swimming, ziplining, rock wall climbing, canoeing and arts and crafts, "They love every experience they have there. When they are there they get to just focus on the next fun adventure," says Kathleen. 
Bart says even with the new safety standards for summer camp, some things never change. "We have kids who come on the very first day of camp and they are so apprehensive. They're nervous, they're not sure who they're going to meet. Some of them don't want to get out of the car. Some of them are crying as they get out of the car because they don't want to come, but," says Bart, "at the end of that week we might have that child crying because he or she doesn't want to go home. It happens every summer."

Our experienced YMCA camp staff are providing a safe, exciting, fun-filled summer adventure. There are spots are still open and parents can register online.