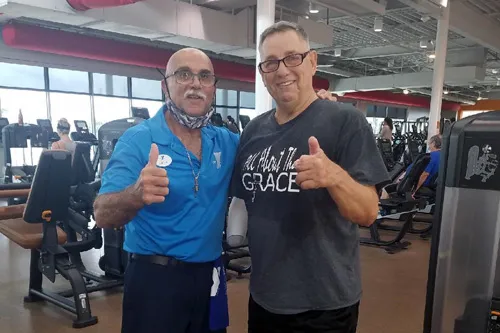 YMCA Wellness Coach and Military Veteran Carlos Ortiz Sr., works with James Bender, Marine Corps and Vietnam Veteran as a part of the VA's Whole Health Program. 

The Tampa Metropolitan Area YMCA and the VA have partnered to make healthy living programs accessible to Veterans. Veterans who have been referred by their Whole Health coach at the James A. Haley Veterans Hospital are eligible to attend the Y for 12 weeks and participate in recommended Y programs, including but not limited to: Yoga, Tai Chi, Pilates, Y Weight and Water Aerobics. 

Carlos Ortiz Sr., a Wellness Coach at the Spurlino Family YMCA, and a Veteran, leads new Whole Health members through an orientation of the program. He works with them to discuss ways they can improve their health and wellbeing. For Carlos, the process is "kind of (like) coming up with a road map to achieve their physical goals in life."

For many Veterans, prioritizing health and wellness is important. "Depending on their term of enlistment (it can) be very challenging, mentally and physically," said Carlos. "The program gives them an opportunity to make adjustments (to their lifestyle), alleviate some of these issues and improve their quality of life through strength and cardio conditioning exercises."

Veterans are welcome to come to the Y as many times as they would like during their 12 weeks. If they visit the Y a minimum of 19 times (and scan in at the Welcome Center) during their first 12 week pass, they are eligible to ask the VA Whole Health coach to renew their pass.  

Carlos has had the opportunity to guide many Veterans through the Whole Health Program. "Assisting, guiding and seeing the great results of everybody that participates in the Whole Health Program is very rewarding to me. From a Veteran that came in to improve their strength, to those who just want to lose some weight." He's had the chance to interact with many as they go through the process, "seeing that they made an accomplishment of fulfilling their goals. You could feel the sense of pride, see the joy, emotions and changes in their quality of health." 

As a Veteran, the program has an even deeper meaning for him. "The Whole Health Program is an opportunity for me to communicate with my brothers and sisters of the United States Armed Forces."  Allowing him to continue to give back to those who have sacrificed so much. 

To learn more about Whole Health and how it can improve your health and well-being, ask your primary care provider for a consult or contact the Whole Health Service 813-558-3969.