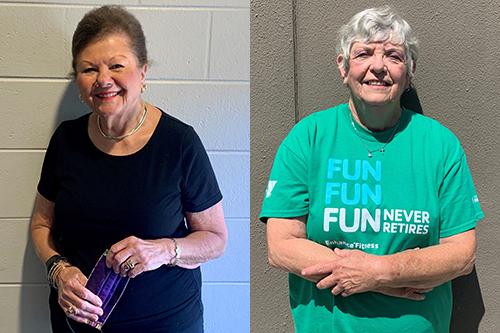 Ellen Houghton and Catherine Darby learned no matter your goal anyone can benefit from Enhance®Fitness at the South Tampa Family YMCA.

Falling three years ago served as a wakeup call to prioritize the well-being of Ellen Houghton and her husband, Bruce. She had been an active member of the South Tampa Family YMCA since 1989 but suddenly began having a problem balancing three years ago.

She's been attending Enhance®Fitness three times a week since then. Ellen says she particularly enjoys the combination of exercises including aerobics, weights, stretching, and, especially, balance. In addition to the variety of each session, Ellen also emphasized the importance of each instructor having different methods of teaching. 

After getting her husband, Bruce, to become a regular participant in the class, Ellen says their confidence has improved in their everyday life. Balance is a huge area of improvement from each of them. 

Even during the pandemic, Ellen and Bruce continued their regular Enhance®Fitness exercises virtually with South Tampa Y's Wellness Experience Coordinator Alan Dubois and prioritized keeping their exercise as a focal point of each day. 

Ellen has since returned to the in-person class and has felt comfortable since doing so. She says she's been confident in the health and safety measures that have been in place as well as the personal responsibility of everybody involved.

Another member of the class, Catherine Darby, lives with Chronic Obstructive Pulmonary Disease, a chronic inflammatory lung disease that causes obstructed airflow from the lungs, and says Enhance®Fitness is great because it's a "total workout." 

She says the cardio aspect of the class has been very beneficial. She says because of Enhance®Fitness, her lungs and breathing have improved significantly. In addition to cardio, Cathy sees an improvement in her balance and while walking. Cathy also noted that each class not only makes her feel stronger, but also lifts your spirits.

Ellen says in addition to the exercise itself, the socialization and bond among the Enhance®Fitness group serves as a big motivating factor. The group has taken on a community atmosphere and everybody looks after one another. Being able to improve personal health in this sort of an environment is what continues to push Ellen and other members to continually prioritize their health and confidence in their everyday lives. 

The program is offered at six Y locations. Learn more about the CDC-certified senior fitness and falls prevention program, Enhance®Fitness.