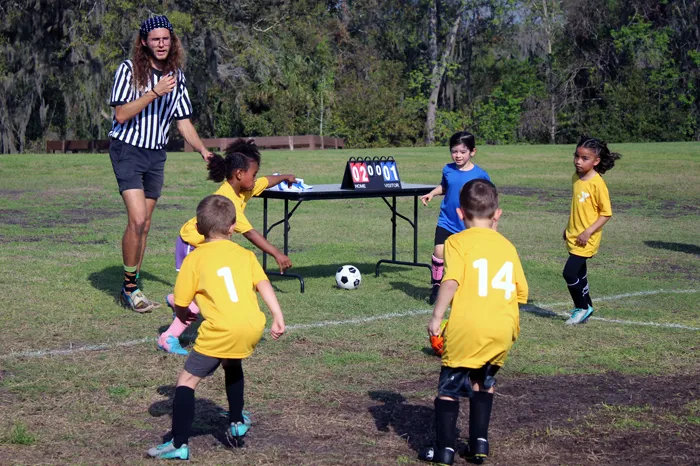 A volunteer referee calls a youth soccer game.

Volunteers help strengthen and uplift communities. Additionally, volunteering offers participants ways to connect with local organizations and individuals while helping fulfill tasks and responsibilities that positively affect the lives of people, animals and organizations in need.  
AmeriCorps is a nonprofit organization dedicated to bringing Americans together to serve communities, and it conducted a volunteering study that shares the following:  
Millennial volunteers contribute roughly 1.5 billion hours of service 

Generation X volunteers contribute roughly 1.8 billion hours of service 

Baby Boomer volunteers contribute roughly 2.2 billion hours of service 

Silent Generation volunteers contribute roughly 798.1 million hours of service 
Volunteers at the Tampa YMCA 
The Tampa YMCA has volunteers from each generation who kindly donate their time, talents and treasures to each location in Hillsborough and East Pasco counties. In 2022, Tampa Y volunteers donated 67,249 volunteer hours to move our mission forward.

As a cause-driven charity, The Tampa YMCA relies heavily on the support of volunteers to help coach sports teams, plan events, raise funds and handle hundreds of other key responsibilities. The Y is also a great place for teens or Generation Z to volunteer and earn hours for graduation requirements and scholarship opportunities.
YMCA Volunteer Opportunities  
Coaching a youth or adult sports team 

Staffing a center for member party or community party 

Raising funds for the Annual Campaign 

Serving on a special event planning committee 

Participating in a community outreach project 

Assisting with administrative work at a YMCA office 
Our volunteers come to the Y for various reasons and many share a primary motivation, to give back and help provide a healthy spirit, mind and body for all. For this reason, we are committed to the long-term training and development of our volunteers so they can become meaningfully integrated into Y programs and operations.

Safety is a top priority at the YMCA – all volunteers must complete a volunteer application, background screening and Child Abuse Prevention Training before the work begins.

Lauren Reyes, Vice President of Operations at the Tampa Y shares, "Our volunteers are the backbone of our organization. We are grateful for their support and dedication to helping provide quality programs and initiatives for children, families and seniors."

Learn more about volunteering at the Y and begin the process to become volunteer at one of 15 YMCA facilities today!

Published Thursday, April 20, 2023.