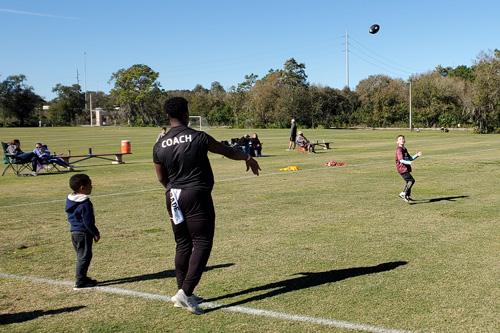 The Tampa Y has something to keep your kids of every age active and moving.

The whole family can be part of the team at the Tampa Metropolitan Area YMCA by signing up for YMCA sports programs this fall.

Jill Larsen has three boys in the Tampa Y sports leagues at 6, 9 and 11 years old, and her 12-year-old daughter has signed up for a few programs on and off. Jill's husband is even coaching for the first time this season.

"Which I'm really excited about," says Tampa Y Program Director Shawn Meek. 

From soccer, flag football, basketball to cheerleading, dance, and gymnastics the Y has something to keep your kids of every age active and moving. 

"For nearly three years, our boys have been participating in the flourishing soccer league at the Spurlino Family YMCA," says Jill. "Not only have our boys have grown tremendously in their skills and love of the game, but we as a family, have gained valuable community. It's a place where kids can come with little to no experience and still feel like part of the team as they improve their skills throughout the season. We love watching, not just our own children grow and improve, but everyone else's children too." 

Shawn says he has big plans for the Tampa league.

"For the future of the program, our main priorities are to be an inclusive and positive place for children of all ages and abilities to have fun playing sports, and build a community for the many diverse families moving to the area from around the world," he says. "We love hearing that one of our players has made their varsity team or decided they enjoy passing the ball with their parents more than video games, but my favorite measure of success is seeing photos of a soccer team having a Sunday cook-out together or flag football parents bringing their kids on a non-practice night to all enjoy the pool and slide." 

Y coaches and instructors teach kids the fundamentals and skills they need to succeed in the sport. 
 
"The coaches, staff, and other soccer families have made the experience feel less like work, but something we truly enjoy and look forward to and we are excited to be part of this growing family," Jill says. 

Shawn says that's not even the best part. He describes the commodore among the families. 

"My last morning shift, I arrived to five of our basketball families in different age groups working out together at 6 am (all members). THAT is the icing on the cake," Shawn says.

Don't end up on the waitlist. Enroll your kids in YMCA Youth Sports today! They'll learn teamwork, sportsmanship and character values all while getting some much-needed exercise. As with all YMCA programs and services, the Y follows guidance from the CDC and government officials to create a safer environment and ensure the highest standards of cleanliness and appropriate accommodations for social distancing. 
Learn more and register at your local Y.