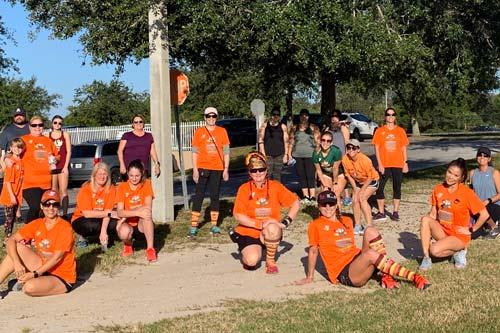 Continuing the tradition, a group of the Tampa Y's Goody Goody™ Turkey Gobble participants ran the Upper Tampa Bay Trail on Thanksgiving morning.

The Tampa Y's annual holiday tradition continued this Thanksgiving virtually. Although the 6th annual Goody Goody™ Turkey Gobble 5K looked different this year, the virtual race raised nearly $32,000 to support LIVESTRONG® at the YMCA.

New this year, more than 600 registered runners had a week to complete their run and received special edition race t-shirts and finisher medals. They could complete their 3.1 miles anywhere. Lynn Adams chose to run on the Upper Tampa Bay Trail with her LIVESTRONG coach from the Northwest Hillsborough Family YMCA on Thanksgiving Day. 

Lynn was diagnosed with Stage 2 breast cancer in 2008, and four years ago, with Metastatic breast cancer. She explains after the chemo, radiation and surgeries, she felt beaten down and was feeling sorry for herself but everything changed when she joined LIVESTRONG at the YMCA. 

"Some people say it saved my life – it brought me back to life," she says. 

The 12-week program is offered at no cost to people affected by cancer and provides a safe, supportive environment to participate in physical and social activities where they can connect during and after treatment.

"The program just does so much for everybody. It touches their lives. It touches their family's lives," says Dawn Kita, Tampa Y Healthy Living Director. "While they're a participant in the program, their family members in their household have a membership to the Y as well, so it's not just about the participant, it's also about their family and support system."

Sharon Harris, a LIVESTRONG at the Y graduate and cancer survivor, says the program and the race meant a lot to her.

"It was the community spirit, the involvement. Mike Muñiz (Sharon's LIVESTRONG coach) introduced us to so many people, so you felt like you were part of a group because there were other people going through the same thing you went through," she says. "It was a great support system."

"Almost everybody knows someone with cancer," Lynn says, "even if they have had it 10, 15 years ago and are still concerned because they're worried it might come back. This program is for them."

Thank you to all our sponsors, volunteers, staff and participants for bettering themselves, their families and their community this Thanksgiving! Next year, we hope to see you back out at Amalie Arena for an in-person race event!