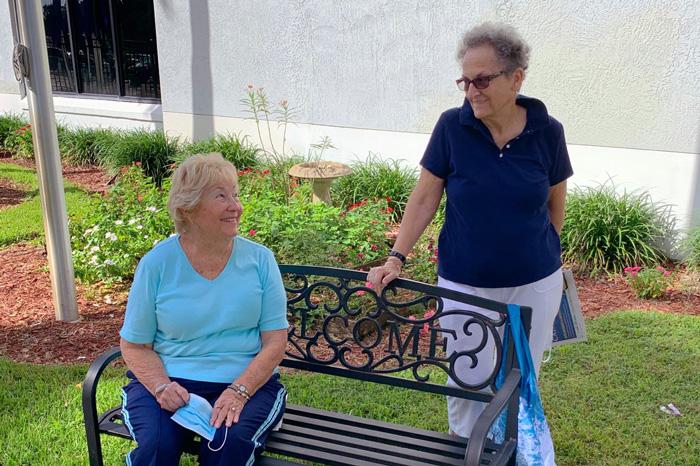 Joyce Cecchi and Lee Mayer returned to the Campo Family YMCA when it reopened but say they still keep in touch with the group of friends they met there. 
 
Seven seniors met at the Campo Y and became "like a second family," says Christine Lemmert after meeting in yoga pre-COVID-19.
 
Christine joined the Y at her daughter's urging after moving to the Tampa Bay area from Key West. 
 
"My daughter says 'why don't you try it. They have a lot of senior citizens there,' so I did. I have more friends now than I have in my hometown. I love my Y friends. I know it has changed my life," Christine says.  
 
"I do too," says Lee Mayer. "In fact, I remember my husband saying, why are you leaving so early (for class) and I said 'well, we have to talk. We don't talk afterward because everybody's busy. My husband asked me, 'what do you talk about?' 
 
"A little bit of everything," laughs Christine.  
 
"I wanted to say, 'we talk about you,' but I thought I better not say that," laughed Lee. And when the Ys reopened, Lee's husband of 49 years didn't mind her getting her workouts in. "He says he's glad when I get out of the house. He says I make too much noise." 
 
And while Christine and some others haven't all returned yet regularly in-person for different reasons since the pandemic, they keep in touch.  
 
"We text each other every day; Bible verses, pictures, etc.," says Lee. "But we miss seeing them a lot."
 
"I lost a good friend last night so they supported me in that," Joyce says. "It's emotional support. It's a women's group. It was formed here and it stayed together and that doesn't always happen. This worked for us (when the Ys were closed for purpose) because we texted each other, we Facetimed, we did a lot of phone calls back and forth. I would see Lee's name there and get all comfortable, get my cup of tea and I would talk to Lee for a long time."
 
Before the pandemic, the group of ladies started going out to lunch together once a month. They picked a different place each time.
 
"We miss that because it was all of us," says Joyce, a self-proclaimed "foodie" who would pick out all the restaurants. 
 
As for what they missed most during the Y's temporary closure?
 
"Everything," Lee says, joking Joyce missed the coffee.
 
The two friends say they've been back as soon as the Y had a class for them. In terms of safety, Lee says she never gave it a second thought.
 
"I don't think about it. You know why? I need people," she laughs. "They said 6 feet and the mask."
 
"And wash your hands, and we carry sanitizer," adds Joyce. 
 
"When I wake up in the morning I'm very thankful, because I'm 77," says Lee. 
 
While Christine hasn't returned just yet she loves the Y virtual classes offered online as some others in the group do as well. Lee and Joyce are back to yoga and their SilverSneakers® classes, waiting for their friends to return when they're ready.