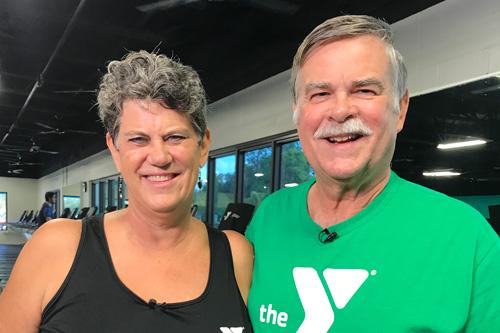 Bob Sierra Y members Doug and Debbie Slaughter say they had to return to the Y for their health. 

February is American Heart Month, bringing awareness to heart disease as a leading cause of death in the United States for both men and women. The good news is keeping an active lifestyle can lower your risk and improve your overall health and well-being.

If you or someone you know is at risk of heart disease, the Y can help increase physical activity, improve food choices and lower blood pressure and cholesterol levels. 

"We're here and ready to support you from day one, so whatever your wellness goals for you and your family, we have something here to support you whether it be for group fitness or small group training or personal training, we really have something for everybody," says Bob Sierra Y Sr. Wellness Director Carolyn Jones. "2020 has been a year full of obstacles and we are ready to welcome people back to the YMCA when you're ready to come back." 

Bob Sierra Y members Doug and Debbie Slaughter say they were ready to get back. 

"I don't have any of these machines at my house - not one. The Y has given me the opportunity to work on my weight, get physically fit and I just love it here," says Doug.

"To be able to come here and to be safe and to have the activities that we need – we need to have physical activity for our health and our strength too," says Debbie. 

The Y offers numerous programs, including Y-Weight, Y Diabetes Prevention Program, Active Older Adult programming, personal training, group training and Corporate Wellness programs. To see other ways we can help you achieve better health, check out our health and fitness programs or stop into your local Y. Here's to a healthy 2021!