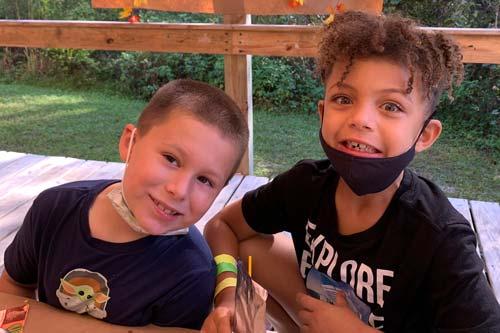 In addition to their $20,000 gift supporting the Tampa Y, Total Air Solutions supported several youth events this year including our winter camps.  

The Tampa YMCA is so grateful for all our community partners, whose support strengthens the community when it's needed the most, especially during this unprecedented year.

Our partnership with Total Air Solutions goes well beyond the full range of quality systems and services provided to Tampa Y facilities. For the past three years, Total Air has generously donated $60,000 to help hundreds of kids, adults and families struggling through financial hardships benefit from Y programs. 

In addition to their annual campaign gift, Total Air Solutions provided fun treat bags, healthy snacks and holiday gifts to hundreds of kids during opening Sports Day at the New Tampa and Spurlino Ys; on Halloween at the South Tampa and Campo Ys; and during our Holiday Kids' Day Out at the Bob Sierra, Camp Cristina, Northwest, South Tampa and Spurlino Ys.

"Total Air Solutions is proud to help thousands of kids, adults and families benefit from the programs and community support offered by the Tampa YMCA," says Co-owner Bill Albert. "We're creating added value to your membership with exclusive promotions that will help you save money and energy on your home comfort system!"
 
As a 4-star Charity Navigator charity, the Tampa Y relies on the generosity of donors to keeps its programs effective and affordable as well as to create new programs in response to community-identified needs. Many of these programs would not be possible were it not for the contributions from supporters Total Air Solutions.

If you would like to contribute to the Y, donate online or email Scott.Barnhard@TampaYMCA.Org. For more about volunteer opportunities, please email Lauren.Reyes@tampaymca.org or call 813.224.9622 ext. 1259.