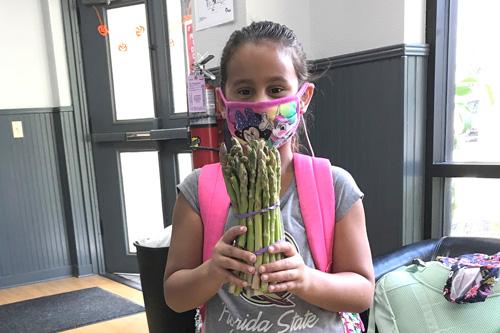 The Food, Fit & Fun program is a new grant-funded program between the Tampa Y and the USDA for children enrolled in YMCA afterschool programs.

Developing and maintaining healthy eating habits is a challenge for many, and it can be particularly tough for children.

September is National Childhood Obesity Month and what better time to announce a new grant-funded program between the Tampa Metropolitan Area YMCA and the U.S Department of Agriculture (USDA) called Food, Fit & Fun to children enrolled in YMCA afterschool programs.

"Their whole purpose is farm-to-school, so it's putting produce in the hands of kids and their families to better give them access and to get them to try new fruits and vegetables and more fresh foods," says Nicole Kettermann, Healthy and Safe Children Director, Fit and Fun at the Y. "This grant will go perfectly with our Fit and Fun program, a curriculum-based program that focuses on fitness and nutrition education, increasing physical activity levels, and preventing childhood obesity, funded by the Children's Board of Hillsborough County."

Research suggests the obesity epidemic is more prevalent in low-income areas due to limited access to healthy foods, safe places for outdoor activities and access to preventative health care services. These grant-funded programs are just some of the ways we're working to turn the epidemic around and, as a result, improve the health of the entire community.

One of the locations Food Fit & Fun visits is Sulphur Springs K-8 Community School, "which is really good because that's a food desert," says Nicole. A food desert is defined as an urban neighborhood without ready access to fresh, healthy and affordable food. The program also visits registered Y youth at YMCA Camp Cristina, Northwest Hillsborough Family YMCA, and Bob Sierra Youth and Family Center.

Another element to the program incorporates the Tampa Y's Veggie Van, a mobile marketplace that serves underserved areas of Tampa Bay. The Veggie Van will deliver produce, including locally-grown produce to Food, Fit and Fun sites for monthly snack demonstrations. This relationship will also benefit families, as new families learn about the Veggie Van's services and delivery schedule. 

The Food, Fit and Fun program will also incorporate the Learning Garden in Sulphur Springs where community partners and volunteers can donate their time, skills and supplies to help provide continuous bounty to the Y's Veggie Van and similar programs while getting the Y afterschool children involved. 

"Food, Fit & Fun is just another way we're helping the community to help fight against childhood obesity. I think now it's even more critical because of the pandemic. So, on top of being a food desert, on top of just not having access to fresh produce, kids aren't getting outside and active like they need to. I think it's amazing these programs can be here and I think it's even more important now than ever," says Nicole.

We have always wanted to grow a stronger, healthier and better community. The programs build on the Y's mission to offer quality out-of-school care for the youth in our community.