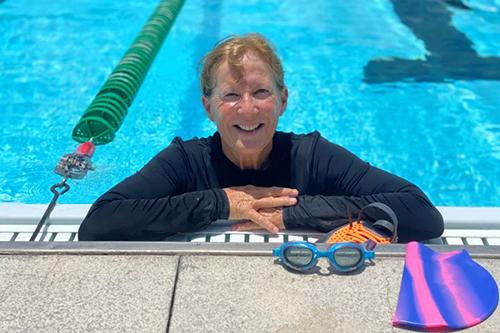 Lea Bourlon got back into swimming after she retired.

Retirement offers many individuals the opportunity to return to activities they enjoyed doing before life became busy with their career. That is exactly what happened with Lea Bourlon. 

After a rewarding 34 years as a Zookeeper at Busch Gardens, Lea returned to one of her favorite activities, swimming. As a competitive swimmer in her youth, Lea decided to get back in the water "because it's excellent exercise!" 

She joined the New Tampa Y initially because of its location, but soon decided "it is the best pool in the Tampa area." "Not only is the pool great, but I have met so many people, everyone is so friendly! We are all out here enjoying the same activity for our health and wellness. The Y is inspirational. It is inspiring to see people of all ages and abilities doing their best!" 

Swimming at the Y four times a week, and up for a challenge, Lea joined the Lap League 100. Since joining the Lap League 100 Lea has surpassed both the 100- and 200-mile goal and has recently completed the 300-mile level. Her next goal? A 1,000 miles!

Last year, she helped raise money by swimming for Swim with A Mission, an organization for veteran service organizations. Since the in-person event was cancelled due to COVID-19, Lea used the New Tampa Y swim lanes to take part. Be certain to say hello to Lea next time you see her on the deck.

All Tampa Y members can register for the free lap swim competition. Everyone who completes 100 miles will receive a Lap League 100 t-shirt. It doesn't matter how long it takes to reach 100 miles, it's about reaching the total distance goal. Contact your local Y to sign up.