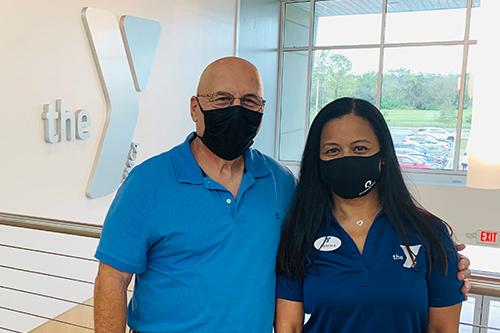 Joe Prudente and Spurlino Family YMCA Wellness Director Athena Reed became friends after his first day at the Y.

It started as a simple question: "Are you okay?" 

"I had never seen him before," says Spurlino Family YMCA Wellness Director Athena Reed, speaking about member 70-year-old Joe Prudente.

Joe wasn't okay.

"I just had a feeling," Athena says. So, she asked him again. "Are you sure?"

"And I told her 'yeah, I'm alright.' She came right up to me like as if she knew me," Joe says softly. 

It was his first day working out at the Spurlino Y since Barbara, or Babs as he lovingly called her, his high school sweetheart and wife of 50 years and workout buddy, passed away suddenly at their home. 

"She went from being vibrant during a bike ride, looking at me in the eyes - to we go in the house and I go away for two minutes, I come back it was over. I gave her CPR when I heard (the ambulance) coming. They were almost at the door and I wanted to be her last breath," Joe says.

So, this was all fresh when Joe ran into Athena.

"I came and I worked out. That was tough. Because we worked out together all the time," Joe says getting choked up. "But I got through it and I had some emotional times that I tried to hide. She and I were always close. I mean, like everything, we just did together but during that time (COVID-19 lockdown), it was 24/7."

When Joe went to leave, he noticed Athena. 

"I told Athena what had happened and she was just so sweet and so understanding and anybody that you tell you just lost your spouse two weeks ago, most people are going to be nice to you but it wasn't just that," he recalls. "It was the next day when I came in. She comes running to me like I knew her. We talked and I worked out and she came over a time or two when I was working out just to say something nice and when I left, she said, 'are you coming back tomorrow?' I said, 'yeah.' She said, 'what time are you coming?' She said, 'I'm working from this time to this time.' Who does that? She wanted to be here. She wanted me to come if it were possible when she was here. I mean, that's pretty special. We've become really good friends."

Joe says the other gym he went to with his wife was fine, but no one ever asked if he was okay, so he switched, also in part to COVID-19 safety. "I knew inherently they would do a better job here," Joe says. "The Y's just different. When I come in here, every person is nice. They're not just doing their job. We all have those days. But when they're like, 'Hey Joe!' — I've only been here a few months!" 

Physical, mental and spiritual wellness are all connected, and each can be strengthened at the Tampa Y in a variety of ways with guidance from our team of health and wellness experts. If you're not feeling like yourself, or know someone who needs support, come visit one of our Ys and let us help you build strength in body, mind and spirit.