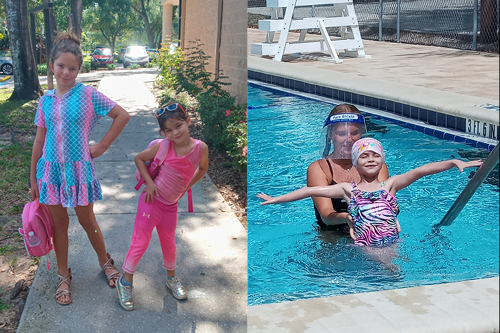 Shine, 6, really shined at her first time at camp with her 10-year-old sister Fallon. 

"Above and beyond is an understatement of how they've treated me and my family when they didn't have to," tears up Jennifer Roche about her daughter's experience at camp this summer.

Jennifer has two little girls, 6-year-old Shine, who she calls her "wild child" and 10-year old Fallon. 

"All of the staff at the YMCA in North Brandon have made myself and my daughters always feel like family and that we have a home away from our home. They genuinely care about our well-being, our health and our happiness. They always bring smiles to our faces and they're genuine in their care for my children. I feel so grateful to have these people in our lives; being a single mom it means the world to me having these extra people around helping me and supporting me raising my children, it has changed our lives," she says. 

Fallon had been going to camp for five years but this was Shine's first summer. Jennifer said when Fallon first got there, she was shy at first but they were able to bring her out of her shell. "I wasn't able to do that by myself. I'm only one person. So, they really helped me bring her out of that. Because it wasn't easy to do."

With Shine, Jennifer says she got into a lot of trouble due to her behavioral issues when camp started. "She was getting written up a lot and I would be in the car going home and she would start to cry and it would really, really get to me. And she would say, 'mom I'm not a bad person. And I'd tell her I know.'

So, Jennifer called the center's Executive Director, Heather Solomon.

"Heather and I had this amazing heart to heart talk and Heather really, really got it, like really got it. And we were on the phone for like 45 minutes," she says. "We got Shine this notebook (where counselors write the good and the areas of opportunity)She still gets in trouble and she's still held accountable but we turned it into a positive thing for her," Jennifer says. "They didn't have to have a Zoom, (led by Kylie Byran, Senior Program Director) with me once a week but they did and meet with her. Just for her. That's not part of camp. She's not in an adaptive camp. So, for them to do these things just for me and my girls its beyond anything that anyone has ever done for me or my children. And that runs deep with me. Really, really deep with me."

"Kylie was really the hero to have all the counselors on the same page with working with Shine as a team," says Heather.

With positive reinforcement and behavior modification, Shine even received the coveted 'Camper of the Week' this summer.