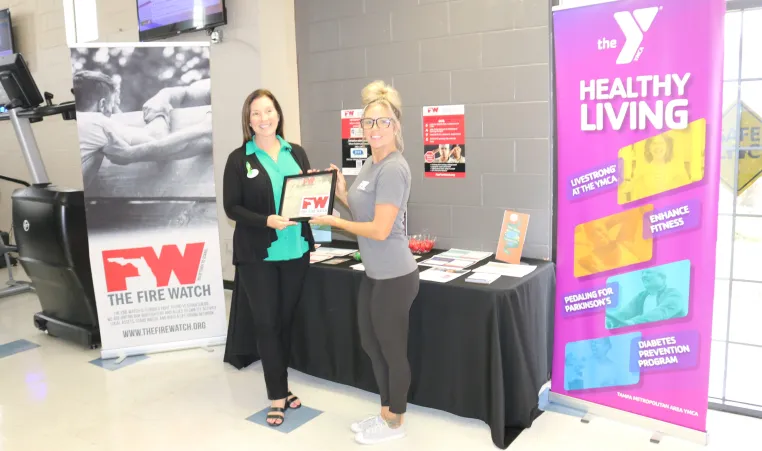 Tampa, FLA. (October 11, 2023) To demonstrate their commitment to supporting military veterans, Tampa Metropolitan Area YMCA trained its employees in veteran suicide intervention through a partnership with Florida-based veterans nonprofit The Fire Watch. In doing so, the Tampa Y becomes the latest organization to be recognized as a Veteran Safe Place by The Fire Watch and joins more than 90 organizations statewide that are dedicated to connecting veterans to potentially life-saving resources. The Safe Place certificate presentation happened on October 10, 2023 at the Central City YMCA aligning with World Mental Health Day.
Mental well-being is a special focus of the Tampa Y. Serving our veterans is part of enhancing our services to meet critical community needs.
Dawn Kita, Tampa Y's Operations Director, Community Health received the certificate on behalf of the Tampa Y.
"Thank you to The Fire Watch for this certificate. Being a Veteran Safe Place makes us a part of a community network, educates our staff who interact with thousands of people daily to recognize when someone is in crisis and know how they can help direct them to the needed resources. It provides resources to all of our members about the signs when someone may be in crisis, and tools to evaluate your own current support circle."
The Fire Watch monitors veteran suicides by county in Florida and offers virtual and in-person suicide intervention training to individuals and businesses. The training is available to the public for free and supporters who complete it are referred to as Watch Standers. To date, the Tampa Y has 65 Watch Standers, a number that is growing as more staff participate.
There are more than 5,000 Watch Standers throughout Florida. In Northeast Florida, which has the highest population of Watch Standers, veteran suicide went down by nearly 50 percent from 1019-2021. 
"We're grateful for Tampa Y's passion for serving veterans by training their employees to recognize suicidal warning signs and volunteering to be a lifeline to those who have served."
Florida has the third highest veteran population in the country, and according to The Fire Watch data, Hillsborough and Pinellas counties had the most recorded veteran suicides from 2010-2021.
For more information, please contact:
Kiran Malik-Khan
Senior Communications Director
Tampa YMCA
Kiran.Malik-Khan@tampaymca.org
813.557.5370