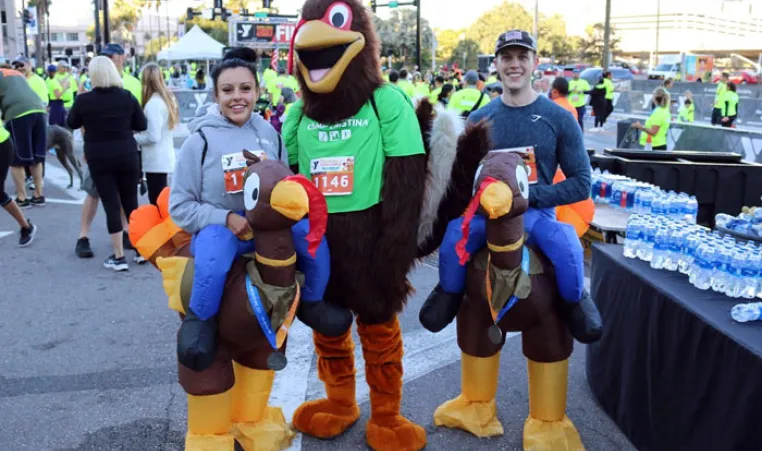 TAMPA, FLA. - October 17, 2023 - The Tampa Metropolitan Area YMCA invites you to our 9th annual Turkey Gobble on November 23, 2023, at 7 a.m., downtown at the Amalie Arena. One of our signature events, the 1 mile and 5K race is a fundraiser for the LIVESTRONG® at the YMCA program, which helps cancer patients and survivors across Tampa. With over 1000 participants and 80 teams already registered, grab a spot soon before they are gone. Register here. Last year's sold-out event saw over 3500 participants. We are expecting an estimated 4500 this year.
New this year on the agenda are individual and team fundraising opportunities, a costume contest, and top three male/female awards in each age group.
"Attend an amazing event to start or continue a Thanksgiving Day tradition! It's a beautiful way to start your day from Amalie Arena, over the Platt Street Bridge and on Bayshore Boulevard at sunrise!" encourages Dawn Kita, Tampa Y's Operations Director, Community Health, who is overseeing the Race.
"You get to Wobble BEFORE you Gobble! You will get home early enough to cook the Turkey after the race, and the best part is, on a day that we are giving thanks, we are also GIVING to a compelling cause: Helping Cancer Survivors regain their strength! This race is our only funding for the LIVESTRONG® at the YMCA cancer survivor program where cancer survivors meet in small groups together for workouts led by certified trainers. They gain physical strength while getting the emotional support of a group," adds Kita.
Also on the program: the fall LIVESTRONG® graduation will be held on the plaza at Amalie Arena at 6:40 a.m., followed by the 5K run/walk at 7 a.m., and the 1-mile fun run at 7:10 a.m.
"Bring the whole family and come in costume to have more fun. You can register for the costume contest at packet pickup. Even if you can't come on Thanksgiving, you can still support the race and cancer survivors by volunteering at packet pickup or by donating."
Looking forward to hosting our community for an incredible cause-driven event.
Amalie Arena is located at 401 Channelside Drive, Tampa, FL 33602.
For more information, please contact:
Kiran Malik-Khan
Senior Communications Director
Tampa YMCA
Kiran.Malik-Khan@tampaymca.org
813.557.5370
Published October 17, 2023