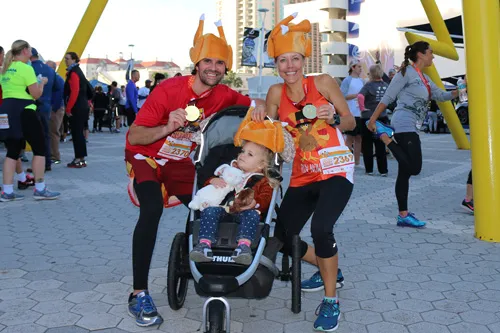 There's still time to register to join us on Thanksgiving morning for the 7th Annual Tampa YMCA Turkey Gobble!

For many, the 7th Annual Tampa YMCA Turkey Gobble presented by Florida Blue, means a chance to get outside and exercise before their big Thanksgiving Day meal, and for some it's an opportunity to dress in a silly costume and run with friends. For Anne Frappier, the race takes on a different meaning and is a chance to support LIVESTRONG® at the Y, a program that changed her life. 

All Proceeds from the Tampa YMCA Turkey Gobble benefit the LIVESTRONG® program (as well as other health programs). LIVESTRONG® is a free 12-week program that offers support, guidance and personal training from certified cancer wellness coaches. The program focuses on physical and social activities for patients before, during and after cancer treatment. 

For Anne, the LIVESTRONG® program helped her "get back on track" by helping her learn what exercises worked best for her. She also had the opportunity to connect and network with fellow survivors. Because of these connections, the program has become an important part of the cancer recovery process for her and many in the community. 

There's still time to register for the 7th Annual Tampa YMCA Turkey Gobble and support the LIVESTRONG® program. The family-friendly event starts at 7am in front of Amalie Arena on 401 Channelside Drive in Tampa. Also included in the registration price are a chip-timed numbered bib for 8K and 5K participants, a dri-fit t-shirt and finisher medal for all participants.

ASICS shoes will be awarded to the top 3 female, top 3 male runners (in-person racers only) at a value up to $200 per pair. In addition, prizes will be awarded to 1st place overall male/female adult and 1st place overall male/female youth (ages 9 and under). First place prizes will also be awarded by age group (10-19, 20-29, 30-39, 40-49, 50-59, 60-69, 70-79, 80+). On-site results will be available following the race and in an emailed link. Strollers and dogs are welcome, please make sure you register appropriately. 

Registration for the 1-mile run/walk is $20, the 5k is $35 and the 8k is $40. Registration is open until 12pm on 11/24. 

Don't miss out on a great way to start your Thanksgiving holiday and support a great cause!