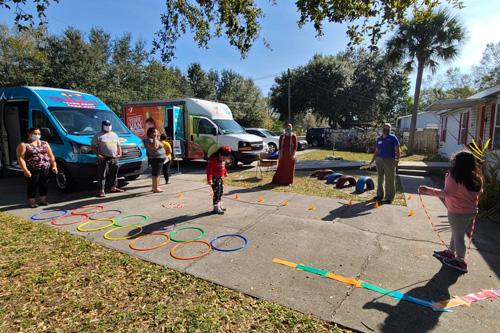 Children engage in fun fitness games provided by the St. Joe's 'Kids Power- Get Your Fit On' van at a recent Tampa Y Veggie Van stop.
BayCare mobile clinics and the St. Joes 'Kids Power' van are tagging along with the Tampa Y's Veggie Van in a new partnership delivering healthy food and health check-ups for the community while also providing fun physical activities for children at no cost.

"The goal is to connect health providers to families in non-intimidating ways and through people they trust," says Lauren Reyes, Tampa Y Vice President of Operations. "So, since we already had the trust of community members via the Veggie Van, BayCare wanted to work with us to connect children and families to health screenings and wellness information. They came out to stops in November and then again in January. The goal is for them to come out at least once a quarter, more if schedules permit. Our Veggie Van families have been enjoying it and often ask when the next visit is planned." 

"The St. Joseph's Children's Hospital van comes to 'play' with the kids. They promote healthy exercise and movement activities. They provide each child a bag of goodies with balls, small toys and information on My Plate as well and physical activities," says Elizabeth Roman, Tampa Y Mobile Food Market Director. "The other one is a mobile clinic from BayCare and they provide services such as high blood pressure and sugar level screenings."

Through the Veggie Van, the Y distributes fresh, nutritious fruits and vegetables into targeted communities, which are labeled food deserts. A food desert is defined as an urban neighborhood without ready access to fresh, healthy and affordable food.

The Veggie Van stops in Tampa Heights, Sulphur Springs, Plant City, Dover, TGH Healthpark in Tampa, Wimauma, and Lacoochee. Each of these locations has a demonstrated need for nutritional wellness. For specific delivery locations and schedules please contact Elizabeth at Elizabeth.Roman@tampaymca.org. Learn more about the Tampa Y's Veggie Van.