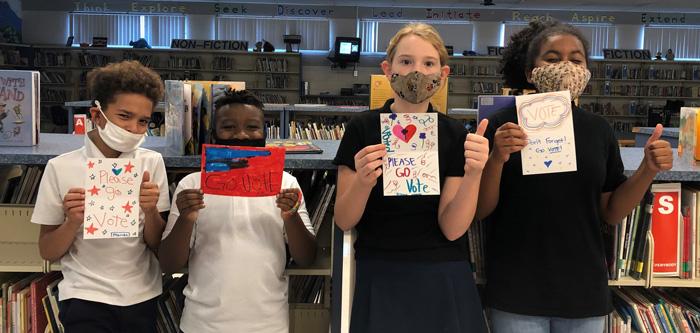 Sulphur Springs YMCA afterschoolers found a creative way to remind their neighbors to vote last month.

Civics can sometimes take a backseat in the classroom. However, civic engagement is an important component of youth development. 

To expand its social emotional curriculum, the Sulphur Springs YMCA organized an activity to help children better understand the nation's political processes during this busy election year. Before last month's Election Day, 40 afterschoolers from Sulphur Springs K-8 Community School helped get out the vote by designing reminder cards to leave in their community mailboxes, reminding neighbors to vote. 

"Our 4-8th graders were instructed on civic engagement and how they can utilize their talents and voices to be heard," says Senior Director of Family Outreach Wayne Johnson. "To ensure a strong democracy in the future, we must ensure that young people are engaged now, even before some of them can vote. This team effort proved to be a very rewarding experience for all."  

In addition to learning about their rights and responsibilities as citizens, the activity gave Y afterschoolers the opportunity to develop valuable skills as they undergo the transition to adulthood.

The Sulphur Springs YMCA provides year-round intensive academic programming that allows K-8th graders, inside Sulphur Springs K-8 Community School, to develop new interests and skills. In addition to tutoring sessions, self-guided academic curriculum centers and field trips, the Y also engages parents and families in meaningful ways. To learn more, contact Meagan.Smithyman@tampaymca.org.