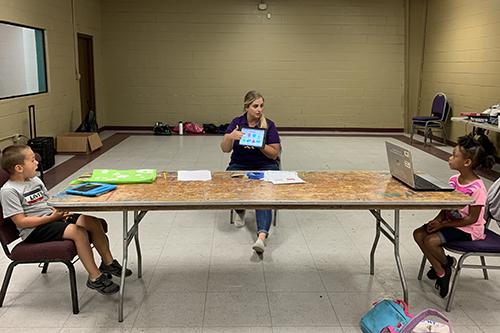 BASE Program Director Hilary Bolt teaching 3D shapes in math to Corbin and Tamai, kindergarteners who attend Youth Relief Care at YMCA Camp Cristina.

The Tampa YMCA is grateful for essential workers, not only for risking a lot to keep us healthy and safe during this pandemic, but also for trusting us to care for their kids while they go to work. Thanks to the generosity of Florida Blue, United Way Suncoast, Tampa Bay Rays Foundation, Publix Charities, Bank of America, TD Charitable Bank, and generous donors and members who were able to stay with us during our temporary closure, we have been able to offer this emergency Youth Relief Care for a very nominal fee.

"I won't ever be able to thank the staff enough for the way they have stepped up during the COVID-19 crisis. With my husband and I both deemed essential we have no choice but to continue working during the pandemic," says Aubrey McGinnis, who enrolled her son at YMCA Camp Cristina. "His regular daycare/camp had to close due to the virus, BayCare had sent out an email to employees letting us know the Y was offering Relief Care for school-age kids, so in a panic, I signed him up literally the night before it started. We have been so impressed with this facility from day one. Not only are the staff excellent communicators and great at their typical jobs as counselors, but they have been excellent stand-in teachers as well by helping all the kids with their distance learning while schools are closed. I am so grateful my first grader has had the chance to have fun ziplining, swimming, canoeing and just playing outside in the midst of all the craziness that's going on in the world outside."

At 11 Tampa Y locations, relief care participants are engaging in constructive activities; including arts and crafts, outdoor games, and time to focus on pre-assigned academics. "We are truly assisting with the distance learning on a daily basis during Relief Care, which supports our teachers, principals and overall school district's initiatives," says Sarah Hays, Executive Director of Before and After School Enrichment.

"Please thank YMCA for their teaching and guidance. He's been doing some great work there," says Jaime Reddish about her son Corbin. The Y appreciates First Books for donating a $200 store credit to purchase books to help with the academic component of Relief Care.

Thank you also to BayCare and AdventHealth for donating thermometers so our Tampa Ys can continue to be efficient with current daily temperature scans. The Y's Youth Relief Care is scheduled to end next Friday, May 29 with the close of the school year.