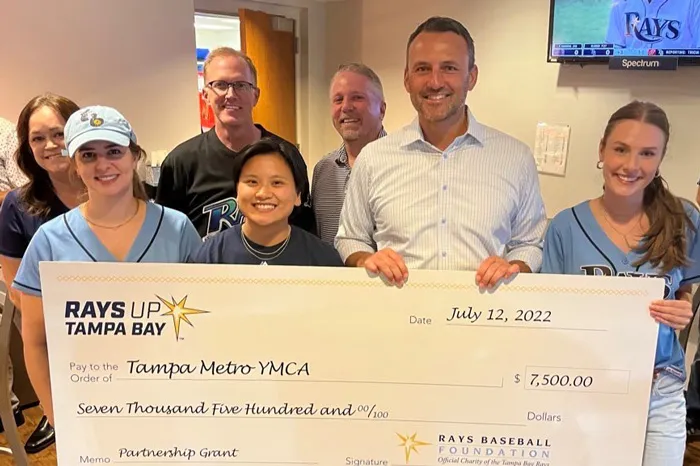 Tampa YMCA staff receive a check from the Tampa Bay Rays.

The Rays Baseball Foundation once again leaned into their slogan of Rays Up to strengthen the community by generously donating $7,500 to each of the local Tampa Bay YMCA Associations including the Tampa Metropolitan Area YMCA, the YMCA of the Suncoast and YMCA of Greater St. Petersburg.  

The associations joined together to accept the donations at the Rays vs. Red Sox game on Tuesday, July 12, 2022. The funds will be used to support our youngest community members as they prepare for the upcoming school year.  

The Y believes every child deserves the support, guidance and encouragement to be who they are and discover who they can become. The Tampa Y's Youth Development programs foster the growth and development of children, parents and families.  

Programs such as our Before & After School Enrichment (BASE) prepare children for the future by providing an asset-rich, values-based, high-quality foundation for learning.  

BASE supports children and their families by allowing parents to balance work and life responsibilities, with the confidence that their children are learning and thriving in a safe, supportive environment with trained afterschool counselors. In the BASE program, children develop healthy, trusting relationships and build self-reliance through the Y values of Caring, Honesty, Respect and Responsibility in a safe environment. 

"The Rays Baseball Foundation funding is used to support our Open Doors program, which helps to alleviate financial burdens for families who need it. Having a place parents can send their kids knowing that they are safe while getting the tools they need to succeed in school is a big relief." Says Zuley Castro, Associate Executive Director Before & After School Enrichment. 

Jennifer Brown is a mother of two who has enrolled her children in the BASE program at Sulphur Springs Community Partnership School.  

She says, "It's hard to trust your kids with somebody and try to focus at work at the same time. So, when you have programs like this you treasure that and you need it."   

The BASE program provides Brown's daughters with a place to finish homework, spend time with friends and enjoy being kids.  

The Tampa Y and the Rays Baseball Foundation continue to work together to build a united community through programs that help build a healthy spirit, mind and body for all.  

We incorporate the Y's core values of caring, honesty, respect and responsibility, into all programs, including: 
Summer Camp  

Youth Sports & Gymnastics  

LIVESTRONG® at the YMCA 

Group Exercise Classes  

Swim Lessons  

Before & After School Enrichment  

Early Head Start  

AND MORE!  

The Rays Foundation allows Tampa Bay area YMCAs reach more people in the community, providing a save space to learn, grow and thrive. 

You, too, can "Rays Up" and strengthen a Tampa Y program today and help develop a leader of tomorrow.