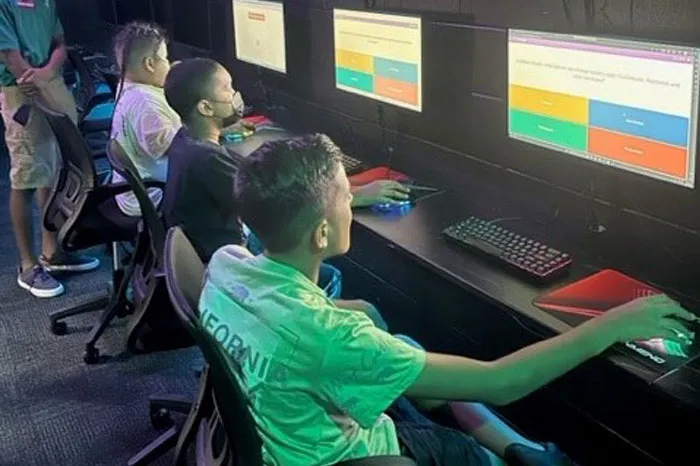 Isabelle, 8, is super focused on her computer. She is enjoying the recently launched Coding Program at the North Brandon YMCA. The Coding Room is custom-built and is already a community hit since the program launched late this summer.
"I like it because I can create my own world. I can save it and get to learn what I want," notes Isabelle, who is in the third grade.
Cole, 10, agrees.
"I just really enjoy coding. I've done it a lot before, so it's natural. It is both easy and hard, but I learn a lot here," shared the fifth-grade student.
One of the Tampa YMCA's newest programs, Coding and Game Design for Kids & Teens is geared at ages 6-17. The youth and teen computer science program is a STEM initiative using gamified education as a platform to teach technical-based skills - coding, programming, modeling and design. Intermediate Jr. Developer participants get to create a full-scale video game mimicking the process used by major gaming developers. This new program at the YMCA can also serve as a launching pad for more advanced participants to receive collegiate scholarships.
Jody Thorson, Executive Director, North Brandon Family YMCA, is delighted with the initiative. As of October 9, 2023, gaming nights see 40 participants, and 35 kids are coding at the facility.
"As we started to build our new strategic plan, we spoke about having a program for everyone. Not everyone is able-bodied, not everyone likes sports. I started doing research and identified that 300 universities offer scholarships for e-sports and coding! I thought this program would set up our youth for the future as well as offer something different to the 13-17 year old demographic," she explained.
"We started with drop-in classes and were excited to see that a staggering 80% of the trial participants became registered members of the program. This enthusiastic uptake was a testament to the engaging and enriching experience our coding sessions provide. We are deeply encouraged by the positive impact we are making in the lives of our participants and their families by offering an alternative program."
Alex Matzkin, CEO and founder of Esports Players Club (ESPC) came on board to provide classes and equipment for the North Brandon Y program. 
"We are thrilled to partner with the YMCA to bring technology skills to a community that has a long-standing reputation for fostering community development and providing opportunities for growth. The opportunity for WSPC to provide coding and game design classes at the YMCA was headed by Executive Director, Jody Thorson, who recognized the importance of providing students with essential career skills in coding and design," explains Alex.
"Our program takes a unique approach, leveraging platforms beloved by young minds to impart valuable career-ready skills from an early age. Already, we have witnessed numerous students within the program who exhibit remarkable potential for flourishing careers. The YMCA has been an invaluable partner in launching this program and we eagerly anticipate future developments. Together, we are paving the way for a brighter, tech-savvy future for our community."
Visit our Coding & Game Design webpage to learn more about the program.
Published October 10, 2023