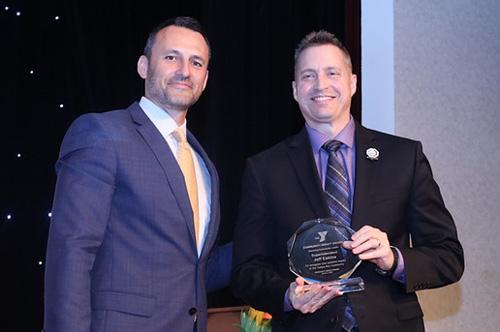 Hillsborough County Public Schools Superintendent Jeff Eakins (R) accepted the Community Impact Award from Tampa Y President & CEO Matt Mitchell (L).

We have the power to change lives! That's the take-home message from the Tampa Y's annual Regions Community Impact Dinner. On March 5, more than 500 guests had the chance to witness the ways generous donors make it possible for the Y to improve lives. From helping people walk again to helping struggling teens graduate and choose a career path…the Y highlighted a few examples of the 242,000 different lives we impact each year. 

This year's event honored outgoing Hillsborough County Public Schools Superintendent Jeff Eakins. "Jeff believes in giving students what they need to succeed," said Tampa Y President & CEO Matt Mitchell before presenting the award. "He believes that all schools and all students must be set up for success. And this is why the YMCA's partnership with Hillsborough County Public Schools is so strong. We have the same belief, working with Jeff and the district to provide countless programs to ensure student success." 

When recognizing Jeff, Matt detailed some of the ways the Y works alongside the school district to strengthen the community, including Before and After School Enrichment, a year-round out-of-school meal service, the Sulphur Springs K-8 Community School, the Y's Teen Achievers program, backpack and holiday outreach events, various beautification and landscaping projects at high-need schools and the Y's First Tee of Tampa Bay golf programs within 150 public schools. 

The night also honored longtime supporter Bob Sierra with the Red Triangle Award for making lasting and valuable contributions to the Tampa Y. In addition, 14 volunteers of the year were recognized by each YMCA center among the crowd full of fellow volunteers, community leaders, elected officials, Y members and friends of the Y. 

Many thanks to Regions Bank for continuing to serve as the title sponsor, ABC Action News' Good Morning Tampa Bay Anchors Deiah Riley and James Tully for emceeing and to all the generous donors in attendance. Our Tampa Bay community is stronger beCAUSE of you!