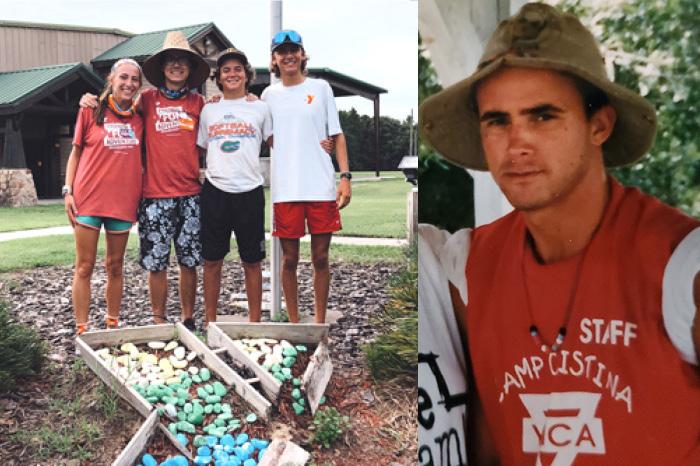 Matt Swartzlander pictured at YMCA Camp Cristina; and his four children.

Katie and David Swartzlander, both 19, just finished their fourth summer at the Y as camp counselors. Their younger brothers, 16-year-old Jason served as a lifeguard for the first time and 12-year-old Jake spent his first as a camper there.

This past summer at YMCA Camp Cristina was extra special, as camp was a place their dad, Matt Swartzlander whom they lost in April to Stage 4 Melanoma, cherished greatly. 

"Our dad worked at the Y for more than 10 years, starting in 1996. The four of us have also developed a special place in our heart for camp through each of our experiences," says Katie. "One of my favorite things I learned at camp was how to make a lanyard, which I teach to my own campers now, and also archery. My favorite thing about working at Camp Cristina is all the kids I get to meet every week! They are always so eager and excited to be at camp, and I love being able to see them grow and learn for the summer." 

Matt passed his passion down to his four children and they've been thinking of ways to memorialize their dad over the summer. While working at camp, they found the perfect way. 

"Our dad's favorite part of camp was taking kids into nature and giving them an outdoor education they would have never received if not for the Y. He loved the trails at camp, and frequently visited them," Katie says. "My dad lived life to the absolute fullest all the time, and never passed up the opportunity for an adventure. One time, when he tore his Achilles' heel, we went on our yearly trip to North Carolina, and he did all the hikes, even on crutches!" 

The siblings started "The Mr. Matt's Project", to raise money toward a new boardwalk nature trail at camp, complete with a bridge, reflection bench and plaque leading to a covered outdoor classroom for kids. So far, they've raised more than $11,200. "I was completely blown away by the amount of support our project received from people we know and love near and far, and consider myself blessed to be so loved and supported by so many," Katie says. 

"To watch this project take shape has been truly incredible. To see the impact that YMCA Camp Cristina has had on people's lives has been humbling. We talk to our campers and staff all the time about how being a part of camp is about being a part of something special, a part something bigger than yourself. This project has really proved what a powerful experience camp can be. I am so grateful for everyone that has contributed," says YMCA Camp Cristina Executive Director Dave Boyle. "Now Matt's family and friends will be to be able to share his love of the outdoors with campers and their family for years to come. Through these gifts, campers will be able to explore the outdoors in a safe way that also protects our environment for future generations too."

"I'm hoping (the project) allows camp to be an even more magical place than it already is! Camp Cristina is so special to me and holds such a big spot in my heart. I hope children will be able to explore there for years to come, as it is one of my favorite things to do with my campers," says Katie.

Construction is slated to start sometime late this fall. If you'd like to contribute, please visit The Mr. Matt's Project or consider making a donation in Camp Cristina's name to help give kids the experience of camp who couldn't otherwise.