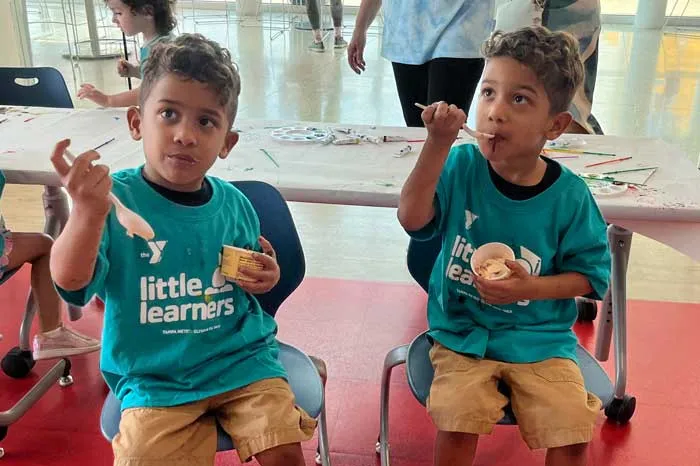 A dozen children and their parents recently gathered at the Spurlino Family YMCA for the Little Learners Summer Send-Off. As the children painted sun catchers and enjoyed ice cream, the parents reminisced on their time in the Little Learners program. 

Grismeldy Rodriguez and her partner Albert Arevalo share, "We enrolled our boys to socialize with other kids their age."

Abel and his identical twin brother Adiel were in a class with 10 other Little Learners. Grismeldy had fears going into the program, "We were worried the boys weren't ready to be in a social setting with other children and considered pulling them out of the program, but Erica (the Program Director) ensured us the boys were benefitting from it."

During the six-week class, the Arevalo boys had a steady yet robust social learning process.

Erica Brundidge is the Early Childhood Engagement Director at the Spurlino Family YMCA. She and her team work hand-in-hand to provide children with fun, developmentally appropriate educational activities. 

"For many families, the Little Learners program is their child's first experience in an early childhood education setting," says Erica. "One of the primary reasons families enroll in the program is to provide their child with an opportunity to learn and socialize."

"On the last day of class, I was able to share a milestone I observed earlier in the day. One of the boys initiated play with a classmate, something he couldn't do at the beginning of the six weeks," shares Erica.

"When I witness that type of growth, I know the mission of the Little Learners program is being fulfilled."  Programs like Little Learners prepare our youngest community members for a bright future. 

Little Learners is one of the YMCA's youth development programs and is generously funded by the Conn Memorial Foundation. The program provides children ages 2-5 with activities to enhance emotional, social and motor skills. The Little Learners program helps children engage in structured activities to help prepare them for kindergarten.

In 2021, through the support of donors and community members, the Tampa YMCA provided 26,349 children with education support through early learning, after-school care and summer camp programs. 

Grismeldy and Albert are proud of their sons' accomplishments and their experience as members of the Spurlino Family YMCA. 

"We love the Y and are thankful for all the programs and great staff here," shares Albert. 

Check out the Spurlino Y's youth development programs, including sports, swim lessons and more!