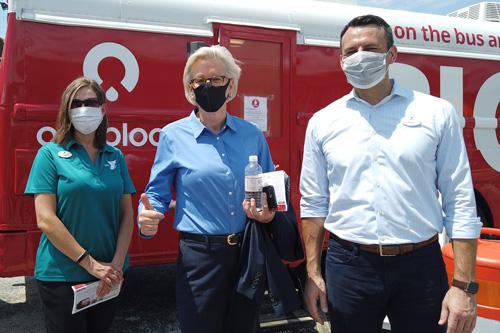 Tampa Y Vice President of Marketing Jennifer Wainman, Tampa Mayor Jane Castor and Tampa Y President & CEO Matt Mitchell support the blood drive at the Bob Gilbertson Central City Family YMCA in Tampa Heights on May 21st. 

852.

That's how many lives have been impacted through a special blood drive partnership between the YMCAs of Tampa Bay and OneBlood last month.

"We have been trying to invest our resources to help fill community voids and blood is one of those community voids right now so the YMCA is helping OneBlood to meet their needs," says Tampa YMCA President & CEO Matt Mitchell. "The YMCA is a hub of activity in our local communities. Our neighborhoods know us. They trust us. They feel safe at the YMCA and that makes the YMCA a tremendous place to hold a blood drive.

The Tampa Y, YMCA of the Suncoast and YMCA of Greater St. Petersburg hosted the drives at 14 locations to ensure ready blood supply for the Tampa Bay community. Tampa Mayor Jane Castor says because of the coronavirus pandemic, it's important for those who are able donate to help out their community. 

"It really is a critical need and our community is always so willing to give so I ask everybody to come out and give blood and help your fellow citizens out," says the mayor, who donated blood at the Central City Y. 

Karen Moore donates on a regular basis. "I love donating blood because I am a universal donor," Karen says. "I do it every eight weeks. It makes me happy to give back to the community and help where I can." 

All donors received a free OneBlood t-shirt and a free wellness checkup which included a COVID-19 antibody test along with blood pressure, pulse, temperature, iron count and cholesterol screening. 

The blood drives were so successful, the Tampa Y will support these efforts again on Friday, July 24 from 11am-4pm. For more information or to make an appointment visit OneBlood.org or call 1.888.9.DONATE (1.888.936.6283).