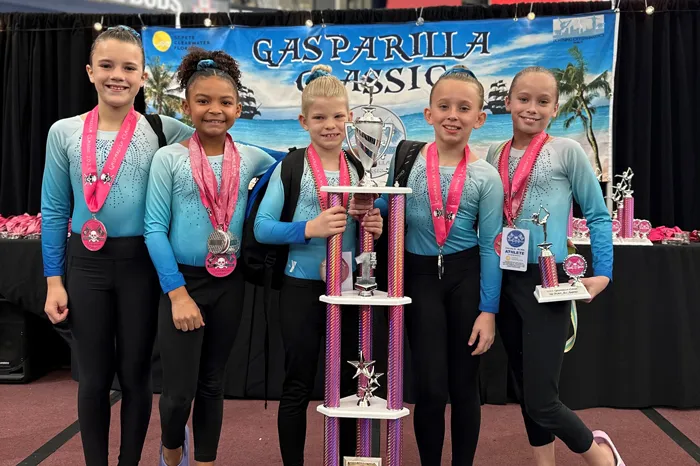 The North Brandon YMCA Top Flight level two gymnastics team at the 2023 Gasparilla Classic.

Physical activity has many benefits for children, including academic performance, muscular fitness, cardio metabolic health, bone strength, brain health, heart and lung health and maintaining a healthy weight.

The Office of Disease Prevention and Health Promotion (OASH) states that children need at least 60 minutes of daily physical activity. There are many ways for children to hit the 60-minute goal even while in school. One of the recommended activities from OASH includes participating in a sport.
Gymnastics at the YMCA  
The Tampa YMCA offers a variety of sports for children to participate in, ranging from soccer to basketball and even gymnastics! 

The Tampa Y has two state-of-the-art gymnastics centers at our North Brandon Family YMCA and our Bob Sierra Family YMCA. The Top Flight gymnastics teams practice at both locations.

The Y's trained and experienced coaches and instructors have carefully developed exercises, drills and routines appropriate for every age, ability and skill level. The coaches ensure the gym is a positive, fun and safe place for youth to learn, hone their skills and develop self-discipline.
Coaches Creating a Safe and Positive Environment
DeJon (DJ) Moore is the Gymnastics Program Director at the North Brandon YMCA and he works with Coach Julie Seale and five competitive level-two gymnasts.

DJ recently joined the North Brandon team and is a former level 10 gymnast. While competing, DJ coached gymnastics part-time and today, he enjoys coaching full-time. 

The USA Gymnastics system is categorized and divided into levels from 1 - 10. Beginners start with levels one through three, levels four through 8 for advanced gymnasts and professionals make up levels nine and 10.

The level two YMCA Top Flight gymnastics team participated in the 2023 Gasparilla Classic at the end of February and performed to win.

DJ shares, "I am proud of all the girls on my level two team." He adds, "They had a very successful competition at the 2023 Gasparilla Classic! They took home the first place small team award, and one of our girls, Olivia Blicker, placed third in the all-around competition!"

DJ plans to continue to grow the North Brandon YMCA Top Flight team and would like to see his gym have a strong compulsory level group, or a level five group, in the next few years.

Learn more about Tampa YMCA gymnastics including toddler groups, youth and teen classes and the competitive team, Top Flight.
 
Published Wednesday, March 15, 2023.