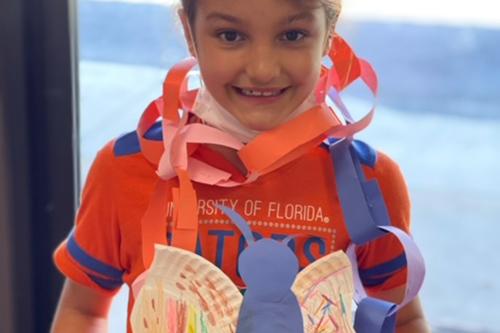 One lesson we quickly learned this past year: it's hard to plan ahead when life can get so unpredictable. But if you haven't already, you have to start thinking about summer. Parents who kept their kids home last summer for understandable reasons, might want to consider other options this time around. 

Now more than ever, kids need enrichment, education and entertainment. What better way to achieve this than outdoors with new friends? At the Y, we know when kids accomplish more, make new friends and feel like they belong, they are developing the skills they need to be successful in life.

That's why the Tampa YMCA offers summer camp — to make sure kids and teens in Tampa Bay area are active and healthy while learning essential leadership and social skills to develop confidence and independence.

But parents need to hurry because the Tampa YMCA is seeing a surge in summer camp sign-ups this summer. "After a year of confusion and being in homes, we're looking forward to getting these kids out and having some great activities," says Bart Cape, Vice President of Operations.

From swimming to gymnastics and everything in between, the Y offers a variety of summer camp options. Safety is a top priority, and the Y will be in constant communication with camper families about extra precautions to expect. 

"We're continuing the COVID safety protocols that we have in place right now," Bart says. "We are anticipating updated mandates from the county and state and when those come out, we will adjust to those."

Lindsay Albright's daughter, 8-year-old Eva, is returning for her second summer at the Bob Gilbertson Central City Family YMCA. 

"My daughter shared with me all the fun activities she did. Swimming every day was such a treat," recalls Lindsay. "The STEAM (Science, Technology, Engineering, Art and Math) activities were engaging and educational, yet fun for the kids. Eva enjoyed it and I felt it was a healthy, enriching environment for her. I love the member price and that breakfast and lunch are served every day. It can be a pain to pack a lunch."

Lindsay says her daughter can't wait to go back, "especially because she has neighborhood kids joining her this year. Other summer camps are so expensive and don't offer all the perks of the Y." 

The YMCA Summer Camp experience starts at $129/week depending on camp location and Y membership status. The cost savings is significant if you are a YMCA member so now's the time to join!

Spots are filling fast so register for camp today to ensure your kids stay engaged socially, physically and academically throughout the summer.