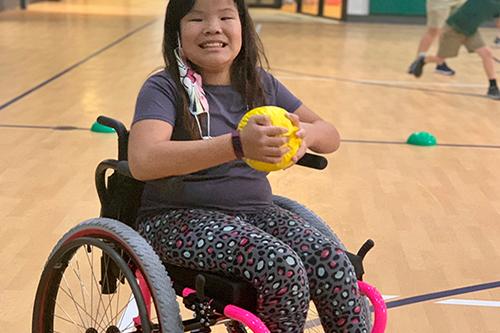 Jade plays sports in her new pink (her favorite color) wheelchair. 

A 10-year-old girl was surprised to get a really cool new set of wheels designed to make her life so much easier. 

Jade Hemphill, who was diagnosed with spina bifida, was presented this month with an all-terrain wheelchair at the Bob Sierra North Tampa Family YMCA. "I think it will help me a lot go a little faster in this chair," says a surprised Jade. 

It all started with a visit from the Tampa Bay Inferno Women's Tackle Football team to the Fit and Fun program, which is generously funded by the Children's Board of Hillsborough County. The team ran through some drills and taught the afterschoolers a little about the sport. Unfortunately, Jade's old wheelchair wasn't designed for anything more than smooth surfaces. So Fit and Fun instructor Ryan Menendez, together with a couple others, pushed Jade through each drill and she had a blast! 

But afterward, Ryan was left wondering, "If it was that hard for me just to push her, imagine how hard it must be for her. What if we get her a chair that can glide through surfaces like that? What if we take away one more obstacle that Jade faces so she can enjoy these sports and games more?" 

He then, with the support and approval of her parents, set up a GoFundMe account and raised over $3,000 within three days, enough to buy her that new chair! On March 3rd, the Y got together with Ryan, Jade's parents, all the afterschool kids, donors and Wheelchairs for Kids and surprised Jade with her new chair. 

"Just seeing her get in that chair made me very emotional. I never expected any of this to happen. I just thought we were going to get her a chair," says Ryan.  

In the audience were also some of the members from the Inferno to show their support, including team owner Jennifer Moody and one of the first female football coaches to win a Super Bowl —Assistant Defensive Line Coach for the Bucs Lori Locust.

Many words can sum up Jade, but her name says it all. She is a precious gem whose sparkle never fades. Such an amazing story and example of one of our Y team members going above and beyond — showing a young girl love, support and inclusion.