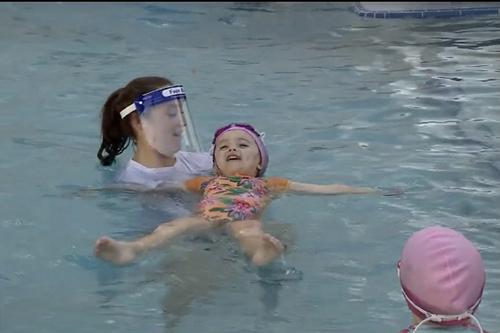 In a Safety Around Water class at the South Tampa Y, Falon Collins, 5, is learning life-saving water safety skills, including how to back float.

Tampa Bay area children will once again receive free water safety and swim lessons at their local Y next week. The Y's Safety Around Water program is free and open to all 3-12-year-old beginners and non-swimmers in the Tampa Bay community. 

Christina Collins says being safe around the water is a valuable lesson for her 5-year-old daughter, Falon.

"Our goal is to make sure she is not afraid of water, but she is aware of what water can be. We don't want her to be too comfortable, but comfortable that she is having fun and enjoying it without a parent right next to them," she says. "It's an essential skill for them as children and it also builds self-confidence in them. Living here in Florida with all the water, I find it to be very important that this is a skill that she learns at a young age till she's older."

During the 4-day course, certified instructors teach kids a sequenced set of skills that will reduce the risk of drowning and give them confidence in and around water. Participants must be present on the first day of class and bring their own swimsuit and towel. A YMCA membership is NOT required; however, due to limited space, pre-registration is required and tomorrow's the last day you can do so. You can sign up online, in-person or by phone at any Tampa Y family center. 

As with all YMCA programs and services, the Y follows guidance from the CDC to create a safer environment and ensure the highest standards of cleanliness and appropriate accommodations for social distancing.

The Y will also offer the free Safety Around Water program again in August. Dates and times vary based on YMCA location.