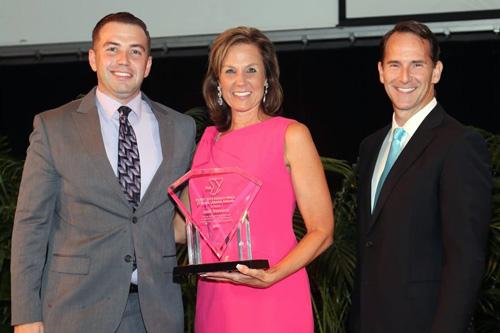 Plant City Family YMCA Executive Director Paul Conley presents the Strong Leader Award to Jodi Stevens (center) with Plant City Y Board member Dave Davenport.   

The Plant City Family YMCA was pleased to honor Jodi Stevens at its 2020-2021 Strong Leader Dinner last month. Last year's annual Strong Leader Dinner was postponed due to COVID-19, so the Y was very excited to honor Jodi with this prestigious award in person. 
 
Jodi was an integral part of founding the annual Y event while she served on the Plant City YMCA Advisory Board from 2003-2008, most notably as Rookie of the Year in 2004, MVP of the Annual Giving Campaign in 2005, Board President from 2006-2007, Strong Leader Dinner Chair and Co–Chair 2002 – 2006. 
 
"I've lived in Plant City for 27 years. I love this town. It's like a big extended family to me. I'm so happy that I'm raising my children here," says Jodi, who has a long list of accomplishments, but her most memorable is starting Plant City Pig Jam, which she has co-chaired since 2002. "I like to say that was my first-born child as I was a part of it from its inception and way before I had my kids. That event has come so far and brought so much to our city." Another highlight: Dancing with the Locals. "That is such a fun night and so great to see so many dance the night away," she says. 
 
An employee of South Florida Baptist Hospital for 15 years, Jodi also has been a Plant City Strawberry Festival volunteer since 2001 in a number of roles; and currently serves as Ambassador Co-Chair, and sits on the Strawberry Ball Committee. Jodi is a current board member and treasurer on the East Hillsborough Law Enforcement Appreciation Association, served various roles with the Plant City Chamber of Commerce, Plant City Rotary Club, American Cancer Society and Plant City Lions Club. She's also been involved with the American Business Woman's Association and Boys and Girls Club.
 
The former Plant City Little League treasurer shares, "my children, Evan, 9, and Jena, 7, are my life so my community boards and events have shifted a little to work around their lives," citing it's more about PTA meetings and cheering on her son and his teammates at baseball games now and her daughter at gymnastics. "My heart is definitely out on that field and in that gym," exclaims Jodi, who shares her hobbies are her community.
 
"If I had to look at all the money raised that I've been on a committee for, it's simply amazing that it comes out of our town and how those same sponsors sponsor, year after year, and event after event. This is such a giving community, the more that I see give, the more I want to give and help out."
Like Jodi, you can make our community stronger by volunteering your time or donating to a Y program or location. Your support allows the Y to be there for those who need us most.