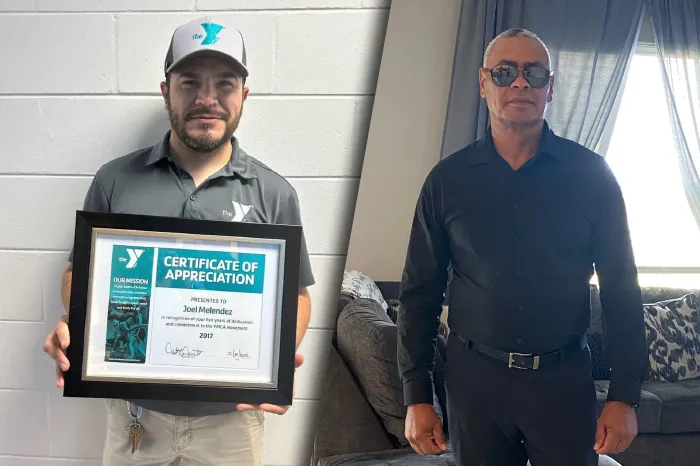 Joel Melendez has just helped a Spanish-speaking guest at the North Brandon YMCA understand how to navigate a few activities. It's almost a daily thing, and he loves being able to help guests and members communicate.
Our Maintenance Technician at the Center for the last six years, Joel was born in Mexico and is glad to lend a hand with his bilingual skills.
"I'm proud to have parents who worked very hard to bring us to the United States for a better life. I help with translating almost daily at the Y, and I just love helping the Center look better, I treat members as family like I do back home. This is who I am and how I was raised," shared Joel.
Ramon Lluberes, also a Maintenance Technician at our Spurlino YMCA agrees. He is from the Dominican Republic and has been with the Spurlino Y for two years.
"My Hispanic heritage represents simple joy and family. We are hardworking people who take pride in all we do. I work with Latino and Hispanic married couples in our community to strengthen relationships and the family unit. Professionally, I attribute my work ethic to my Dominican culture, and it shows in the level of work I can accomplish."
As we champion diversity, the Tampa Y is proud to launch the Hispanic-Latino Leadership Network, an Employee Resource Group (ERG). The Group had its inaugural meeting earlier this month and currently consists of 10 members. Alex Delgado, Associate Executive Director for our East Pasco and Dade City Ys, chairs the Group while Zuleyka (Zuley) Castro, Associate Executive Director at Spurlino serves as vice chair.
"The feedback from staff members has been overwhelmingly positive. Being able to assist our Hispanic community in ways that will make their Y experience more enjoyable and welcoming as well as create ways to support Hispanic staff's professional development is a driving force behind the birth of this ERG," noted Alex.
Zuley highlighted a few goals of the group.
"Some of the projects we want to work on include providing equitable material for program registration and information to our members and participants. We also believe it is important that our staff teams represent the communities we serve. This may look like having a Spanish-speaking staff member during each shift at the welcome desk or available throughout the Center to serve our diverse membership base. Lastly, a mentorship program for staff members is also on the agenda."
For both Ramon and Joel, this ERG means seeing their culture represented.
"This is progress! It shows our need to stand beside one another and move this community forward," enthused Ramon.
"Having this support makes me feel special at the Y," added Joel.