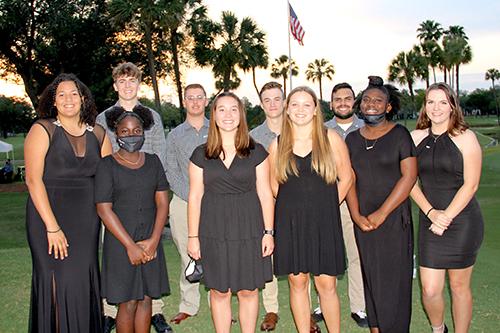 First Tee – Tampa Bay, a part of the Tampa Metropolitan Area YMCA, is celebrating a record-breaking night thanks, in part, to Florida Governor Ron DeSantis.

Last month, Governor DeSantis served as keynote speaker for the First Tee – Tampa Bay's 4rd Annual Dinner Gala and Live Auction at Palma Ceia Golf & Country Club, sponsored by Foley & Lardner LLP. His inspirational words helped bring in a record-breaking $1.3 million, including a $150,000 gift from Troy and Elizabeth Fowler through the Triad Foundation, to help more local kids learn life lessons through the game of golf. 

"We all know that 2020 was a difficult time for many organizations, First Tee included," says Executive Director Ian Baxter. "We are so grateful to all of our generous supporters for helping us get back to doing what we do best – serve the children of the Tampa Bay community."

"It is tremendous to see our community's key stakeholders come out to support the First Tee program," says Tampa YMCA President & CEO Matt Mitchell. "This level of support will help ensure the sustainability of this great resource that impacts so many of our youth year after year."

This is the third event Governor DeSantis has participated in to benefit First Tee – Tampa Bay. The Governor's Cup both in October 2020 and April 2019 collectively raised $600,000 for the youth-serving organization. 

First Tee – Tampa Bay provides more than 90,000 children each year with hands-on, interactive golf experiences along with introducing them to the First Tee's Nine Core Values. Besides being part of the Tampa YMCA, First Tee – Tampa Bay also partners with community members such as the Tampa Sports Authority, the City of Tampa, Hillsborough County Public Schools and various golf facilities to offer year-round programming for kids and teens. 

"At First Tee – Tampa Bay, we do not just teach golf, we teach life skills," says Gary Koch, First Tee – Tampa Bay's Board Chair, former pro-golfer and current NBC Golf broadcaster. "Our program uses the game of golf to provide young people with the chance to develop life-enhancing values like confidence, perseverance and judgment and a series of life skills such as goal-setting, meeting new people and staying healthy." 

Get involved and learn more about First Tee - Tampa Bay today.