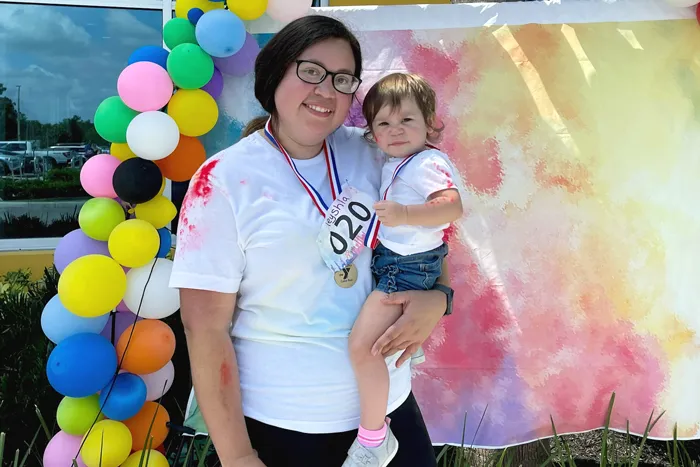 Spurlino Family YMCA member and her daughter smile for a photo after completing the color run.
If you have been in one of our YMCAs in the last month, you may have seen an array of information about Spin-A-Thons, Shoot-A-thons, Swimming for a Cause or Sending a Kid to Camp. During the months of March and April, our Ys strive to raise money for our Open Doors Financial Assistance program through events and fundraisers like those mentioned. Our center locations pride themselves on raising awareness of the Y's mission and supporting their neighbors with their time and talents.

Each YMCA puts a lot of effort into planning and implementing fun, engaging events that will help them meet their fundraising goals. It takes the whole community to lift one another when in need, and the Tampa Y could not be prouder of how our staff and volunteers have stepped up this year.
Spotlights from our 2023 Community Campaign Events 
North Brandon Family YMCA Fashion Show | Active Older Adults took part in a wonderful fashion show on March 25th. The seniors displayed fashion trends, new and old, while raising awareness about the Open Doors program and the Y's mission and values.
 
New Tampa Family YMCA Swim for a Cause | On April 1st and 2nd, swimmers of all ages competed to swim the most laps and to raise the most money to provide children with a safe place to learn, grow and thrive.
 
Northwest and West Park Family YMCA Wellness Challenge | Together the two Ys have started a wellness challenge, competing for the most miles and dollars raised in support of their communities. This challenge will continue through April 30th and you can join the challenge today!
 
Spurlino Family YMCA Color Run | On Saturday, April 23rd at 8am, families from around the Gibsonton/Riverview area will come together for a fun and colorful event. The Color Run is a 5k or 1-mile run raising awareness and funds for the Open Doors program and Community Campaign. You can join in on the fun and register now!
 
South Tampa Family YMCA BBQ Fun-Raiser | 

Are you looking for a different kind of community-building event? You can head to the South Tampa YMCA this Saturday, April 22nd, at 12pm for a BBQ poolside. This is a FREE event, but donations of the price of your BBQ meal are welcomed.


 
Central City and Downtown YMCA National Squat Day Challenge | 

Today, April 20th, the Downtown and Central City YMCAs are hosting the National Squat Day Challenge! What a fun way to test physical ability while raising money to support the community!

All of these amazing events are bringing our community together for a greater cause, to ensure everyone is given access to our memberships, programs while gaining a sense of community. We could not do this without our dedicated donors, volunteers and staff.

Thank you to everyone who has taken part in the many Healthy Living Events and the Community Campaign this month!

Published Thursday, April 20, 2023.