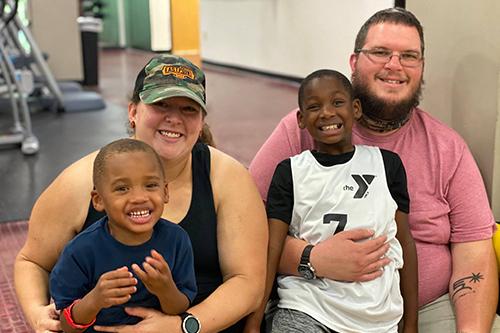 Alicia and Joseph Wlodynski joined the New Tampa Family YMCA in April 2020 just after the COVID-19 shutdown. It may sound like an odd time to join, however, it was the perfect time for Alicia and Joseph. As essential workers and first-time foster parents, it was important to find childcare they could trust and with whom they felt comfortable. 

"We were nervous, Clint, 7, was our first foster child. We joined for Clint and for the Relief Care program. I don't know what we would have done without the Y," says Alicia.

Since then, the Wlodynski family has truly embraced all the Y has to offer. Clint has had the opportunity to enjoy a variety of programs from basketball, swim lessons, and craft night to summer camp, Kids' Day Out and Parents' Night Out. 

If you ask Clint what he likes best about the Y he says, "to have fun!" Recently, Clint's younger brother, Loyal, 4, joined the Wlodynski family. He, too, is finding the Y a fun place to be. His favorite activity? "Swimming lessons!" 

Alicia says, "The Y feels like family, like home. We trust it. It's safe and we have fun! The Y was a place to belong when he didn't belong to any place."

Tampa YMCA members can embark on an adventure at any of our locations, across Hillsborough and East Pasco counties, to visit one of our many pools, splash pads and playgrounds. They can also join a book club, attend events and activities and volunteer with us throughout the Tampa YMCA association.

At the Y, members are able to reach more than their fitness goals; they find a place to build relationships and deepen their sense of belonging. Check out all the benefits of being a Tampa YMCA member.