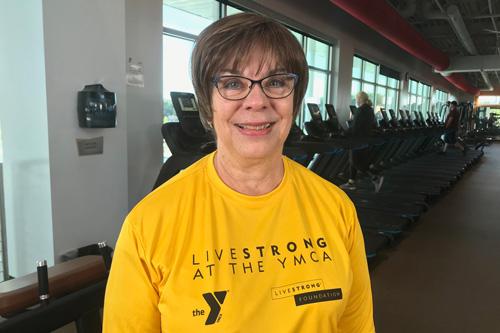 Anne Frappier is a graduate of the LIVESTRONG at the Y program at the Spurlino Family YMCA. 

Anne Frappier says after graduating from LIVESTRONG® at the YMCA she learned that she's not alone. "There were many women who felt they were by themselves throughout their treatment," she says. "Here they felt 'gee, there are other people who have cancer just like me.'"

Besides sharing experiences with other breast cancer survivors, Anne says the program at the Spurlino Family YMCA at Big Bend Road benefited her physical health. 

"I had some disabilities with my arms after surgeries and I was able to overcome those disabilities and am able to work with my arms and my balance much more. My energy levels have gone through the roof," says Anne. "It's been fantastic. Also, finding out I could do things I didn't know I could do."

Now that's she's graduated LIVESTRONG, Anne still comes to the Y on a regular basis. 
"I like their exercise equipment and their classes are great," says Anne. "The people are very nice too. And her New Year's resolution: "To lose more weight and get stronger," she says.

LIVESTRONG® at the Y is a free 12-week program that offers support, guidance and personal training from certified cancer wellness coaches. The program focuses on physical and social activities for patients before, during and after cancer treatment.