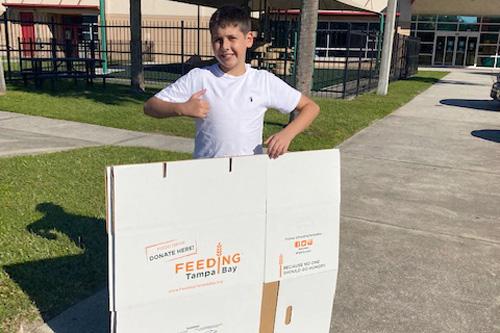 Jacob Staten dropped off empty Feeding Tampa Bay boxes to collect donated food at more than 11 Tampa Y locations, including the New Tampa Family YMCA.

Jacob Staten, who turns 11 tomorrow, November 20th, has been collecting food instead of gifts for his birthday since he turned six. 

"As parents, we are so proud of Jacob and his desire to make a difference in our community. He was impacted after a trip we took to Washington D.C. and seeing a homeless man begging for food. It made Jacob incredibly sad to see someone hungry, and he could not imagine why anyone should go without food. We discussed this issue as a family and came up with the idea of having a big birthday celebration each year, and instead of guests bringing gifts for Jacob they would bring canned food items," says Jacob's mother, Alexis. 

Each year since, Jacob's efforts have been supported by friends, family and those in the community making a larger impact than the year before.  

"I decided to do this because I believe that I have enough toys already and that poor people need more food and that I would rather give than receive," says Jacob. "This makes me feel amazing because going to bed knowing that you helped others in need makes you feel great. Even if you just give one meal, you probably made someone's day."  

Jacob and his mom picked up empty donation boxes from Feeding Tampa Bay and distributed them to all the Tampa Y locations. For the entire month of November, Jacob will collect food along with monetary donations. All proceeds go directly to Feeding Tampa Bay.