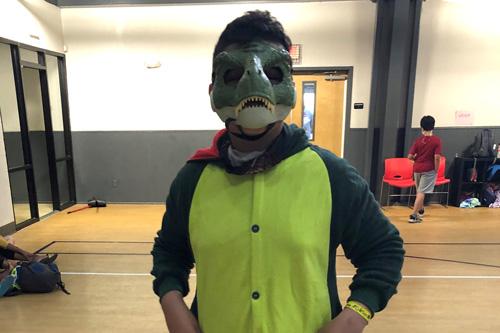 Fun-themed activities like "Dinosaur Day" helped boost Michael Rivera's confidence during Y Summer Camp.

Whether you have a little one or a teenager, the Tampa YMCA has a camp for your child to give them a summer they'll never forget! 

"We are looking forward to another terrific summer of camp! We were able to safely serve over 12,000 campers in the summer of 2020 with our enhanced protocols and anticipate an even stronger summer this year," reassures Bart Cape, Tampa Y Vice President of Operations.

Despite camp looking a little different last summer due to the coronavirus pandemic, Liva Rivera calls it, "the best experience of my son's life. He loved it so much he wanted to be there every single day of summer. He came out of his shell and his confidence is through the roof." 

When schools switched to virtual learning due to COVID-19, Liva says she just wanted her son, Michael, 13, to get out of the house, so she enrolled him in Leaders In Training Camp at the Bob Sierra Y Youth and Family Center camp.

"He was just home 24 hours a day and not really socializing, sitting in front of the TV playing video games. It was depressing. I just wanted him to get out of the house and be around people, so I didn't have a whole lot of fear about it," she says. "Everyone has a different perspective about all of this going on but I felt like he was going to be just fine at the Y. And thankfully, he was."

Liva says her son is looking forward to returning this year.

"We're all praying that things are going to go back to normal. I mean, things are never going to go back to normal again, I don't think, but we're all hoping things are going to be a little bit more normal now with a lot of people starting to get the (coronavirus) vaccine so I have no reservations about sending him back this summer," shares Liva. "It was an awesome experience, it really was."

Like last summer, the Y plans on keeping extra precautions in place, which camp leaders and counselors have been trained on. Specific safety protocols will be announced based on recommendations from the American Camp Association, Centers for Disease and Control Prevention and local health officials at the time camp starts June 1.

"Some families missed the experience of summer camp for their children last summer and we are already starting to see elevated registrations as we enter into the early spring," Bart says. "Camp is such an impactful and life-changing experience for children and it will be great to see our families again soon."

YMCA Summer Camp staff are experienced and ready for a safe, fun-filled summer adventure. Parents can register at Ys across Hillsborough and East Pasco counties.