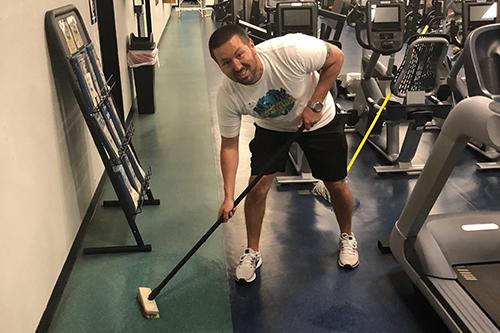 The Tampa YMCAs may look empty but staff is keeping busy providing youth relief care, deep cleaning and performing maintenance projects. (Photo: Ryan Pratt, East Pasco Family YMCA Membership and Wellness Experience Director)

Behind closed doors, your Ys are working hard. While temporarily closed, the Y is staying busy deep cleaning, training staff and preparing for summer programming. We're also doing maintenance on our facilities so we can welcome back members to an even shinier, more spotless facility.

"The pool has been resurfaced, and we have water as of today, and we also are going to have new pavers that will be going in soon, so lots of exciting stuff to look forward to," says Michelle Sussman, Senior Membership Director at the Bob Sierra North Tampa Family YMCA. 

Other centers are doing roof work, installing new floors and completing locker room renovations. They're also applying a fresh coat of paint on walls and baseboards. 

When our centers are able to reopen, we will continue using all the precautionary measures possible to ensure the safest and healthiest environment for our members and staff including: 
We will urge members and staff to stay home if they are sick, wash hands frequently for at least 20 seconds with soap and water, use hand sanitizer when entering the Y, and wipe down equipment after each use.
Our cleaning processes are in compliance with the CDC's recommendations for preventing the spread of viruses, including the coronavirus. Our cleaning vendors will continue to increase their cleaning regimen on highly trafficked surfaces throughout our facilities, using medical-grade cleaning solutions approved by the Environmental Protection Agency for its effectiveness in killing the coronavirus.
Hand sanitizer and boxed tissues are placed throughout our facilities.
When we receive communication of a contagious disease diagnosis, we order an extra deep cleaning of the area last used by the patient and communicate to others in the program.
In all our youth programs, we teach and encourage good hand hygiene, respiratory etiquette and follow a strict sick child policy, which requests all caregivers to keep their children home if they are sick or showing signs of becoming sick.
 
Y centers will remain temporarily closed for purpose through Friday, May 8 based on the latest statewide executive order in an effort to prevent the spread of COVID-19 in our community. We can't wait to welcome our members back as soon as we can!