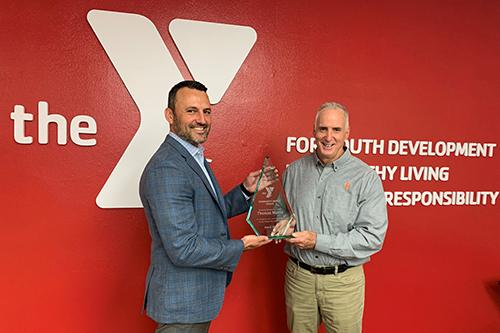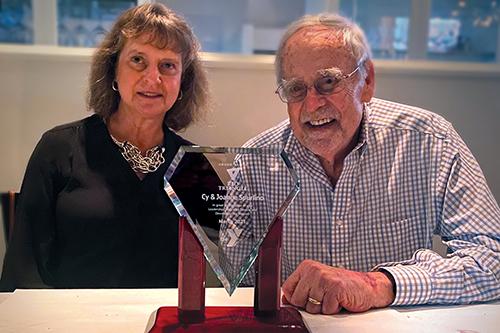 Tampa Y Governance Board Member Cy Spurlino and his wife,
Joanne, are the 2021 recipients of the Y's top volunteer honor,
the Red Triangle Award.


We are overwhelmed with gratitude for all of you who joined us during our virtual celebration of impact last month. The Tampa YMCA's Community Impact Week, sponsored by Regions, ran online in place of our annual Community Impact Dinner to ensure the safety of our community. From March 22-25, we were able to share several compelling videos and stories of impact online for everyone to enjoy at their convenience. 

"It would have been very easy for us to simply cancel the Community Impact Dinner and chalk it up as another casualty of the pandemic," says Tampa YMCA President & CEO Matt Mitchell. "However, we cannot transition into a new year and let all of our good work go unnoticed. We have so much to be proud of! Our stories of impact need to be told and our volunteers need to be recognized."

We had the distinct pleasure to honor Feeding Tampa Bay President & CEO Thomas Mantz with the Tampa YMCA's 2021 Community Impact Award during the celebration. Thomas joins the ranks of 11 other distinguished Tampa Y Community Impact Award recipients for his extraordinary leadership supplying food to tens of thousands of people daily in a pandemic. "Once Tom's name came up for nomination, end of discussion," says Matt who presented Thomas with the coveted award at the Tampa Y Association Office.

Matt also presented longtime supporters Cy and Joanne Spurlino with the Red Triangle Award. This prestigious award is given to Y volunteers whose leadership, dedicated service and devotion to the Y mission have made significant and lasting impact in the community.

"The Red Triangle Award recognizes those who empower the Y to fulfill our promise to the community," says Matt. "No one has held our hand more tightly than Cy and Joanne Spurlino and we are so fortunate to have them as friends. It is an honor to recognize them as true owners of our mission and purpose." says Matt. 

Ten Volunteers of the Year from Tampa Y family centers were also be recognized during the virtual four-day celebration. Many thanks to Regions Bank for continuing to serve as the title sponsor, ABC Action News' Good Morning Tampa Bay Anchors Deiah Riley and James Tully who invited everyone to celebrate with us and to all these generous donors who helped us make such a meaningful, enduring impact this past year. We appreciate your continued trust in and commitment to the Tampa YMCA mission and cause. For those of you who are not already supporters…we would love for you to join our cause in strengthening our Tampa Bay community.