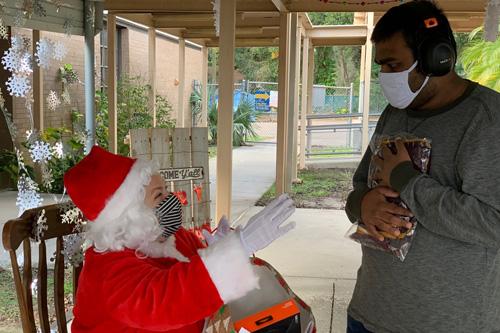 Mrs. Claus made a special stop at the Lopez Exceptional Student Center with gifts from the North Brandon Y on December 17th.

Every Christmas, the North Brandon Family YMCA brings holiday cheer to special needs children in Seffner and this year was no different.

Mrs. Claus' visit this year at the Lopez Exceptional Student Center for students with learning, language, neurological, developmental and behavioral disorders seemed even more special than previous years.

"We are so grateful and extremely excited to be able to have YMCA do this for our students and for our staff. This is one of the events that I most look forward to each year. I know it's an odd way to celebrate this year but everyone has been so flexible and adaptable to a more technological/virtual world! Thank you so much for all you do and all you will be doing for us! I am so appreciative as this has been a tough year for all," says Lopez ESC Principal Sara Schwanzl.

A few things were different this year. The gifts were dropped off in advance and the attendees were limited to just Mrs. Claus and a photographer. A Zoom call was set up for YMCA staff and board members to watch 62 kids receive their special gifts from Mrs. Claus. 

For the second year, the North Brandon Y partnered with Colonial Distributing, which donated 24 gifts. The corporate partner also provided a hot lunch to the entire staff at Lopez ESC to thank them for their hard work and dedication. Thanks to the North Brandon Y Advisory Board members for donating and sorting all the gifts to ensure every student received something special.

Major thanks to our donors, staff and volunteers who serve as holiday heroes year after year! The Tampa Y values diversity and inclusion and is committed to empowering all community members – regardless of ability – to be healthy, confident, connected and secure.